My first band and longest serving one so far was Angry Badger. For no other reason than I have lots of MP3's, pictures and some videos, I thought I'd document the history of the 'badger.
Originally started by myself, a mad unreliable punk drummer called Dan and a guy from works brother called Egor some point in late 2004, we were initially nameless, toying with all sorts of names, including the Dead Zebra's (just imagine the logo!). We recruited another guy from work to sing for a while called Tristan, but he was more doing it to stop us from keeping on at him, we played some covers (badly) just for fun, myself and Egor regularly swapping guitar and bass duty's depending on the song (I could play slap bass, Egor was better at guitar solo's!). Dan became increasingly unreliable, so we recruited for a drummer online and met a fantastic player (who'd even played in front of Chad Smith at drum school) called Adam.
Once Adam was recruited, we needed to find a permanent singer, who could sing more than Green Day covers.
It was during this time, the name Angry Badger was chosen, it actually came from a story a guy at work (Flan) told me, about how one drunken night, on the way home from the pub, they decided to 'hedge hop' their way home, to save time (as you do). A few gardens in, Flan was confronted by 'a big f*ck off badger' that was snarling and swiping at him, the name was chosen!! Adam being quite the artist sketched up the logo: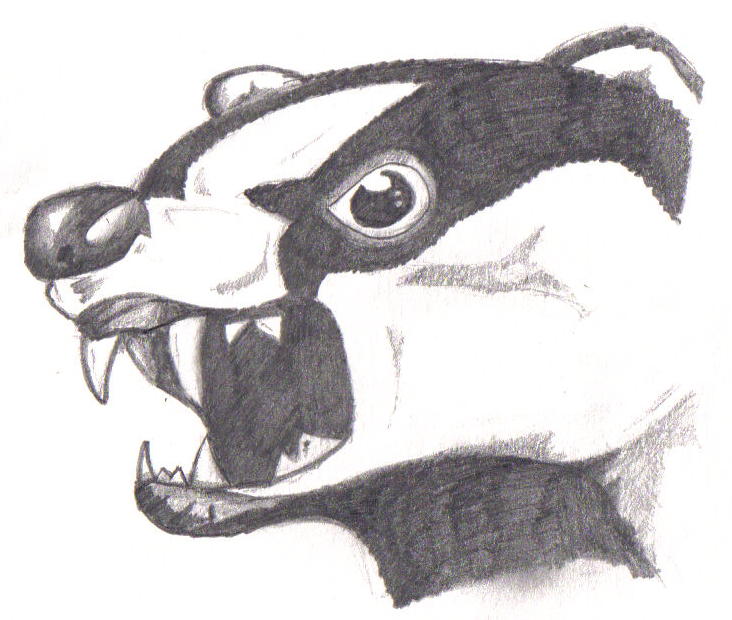 Back to 'Forming Bands' and we auditioned a guy called Phil C (the C is important, more Phil's later), the audition was a lot of fun and he learnt the songs we asked and did a good job.
A little while after Phil C joined, Egor decided that he wanted to spend more time with his other band, so left a bass / guitar sized hole. I decided to just stick to guitar and look for a bass player, Forming Bands turned up trumps again, and we recruited Natalie.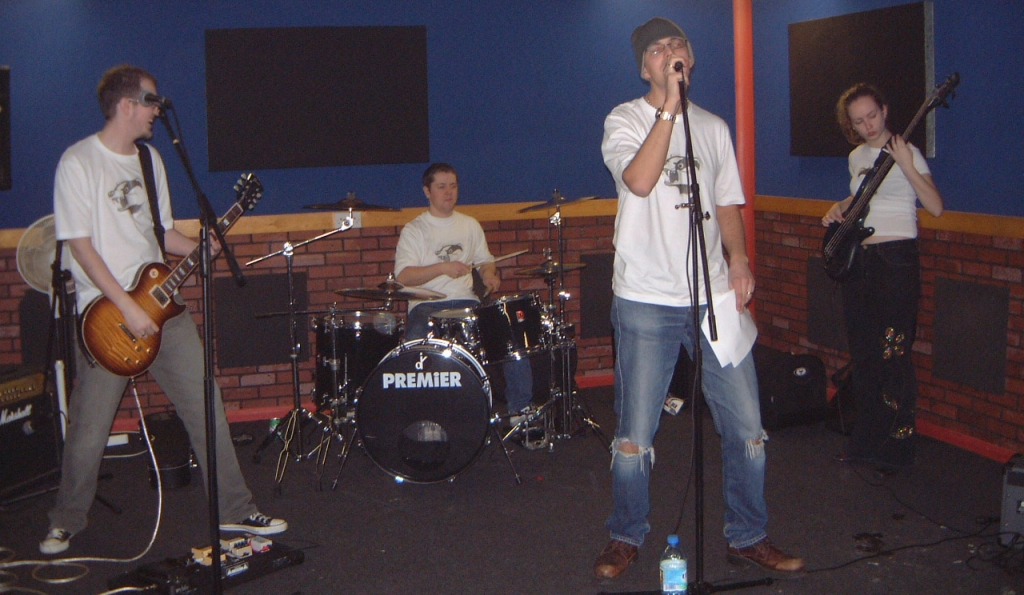 The first complete lineup:

Now we had a fully formed lineup, we started lining up covers with a view to gigging. Here's a couple of YouTube videos of us:
Peaches
I Believe In A Thing Called Love
After booking our first gig to play at the Red Lion in Stevenage, it was cancelled on the night of the gig, because the owners friends band became free (I've purposely avoided playing / going there because of this). It was around this time myself and Phil C decided that we wanted to start writing our own material, it was felt that we needed a more 'dynamic' (sorry Natalie, it was a very long time ago) bass player, so we put up an advert on Forming Bands (you can see the reoccurring theme here!) a guy called Mike from Stevenage responded, I got him and Phil round my house for an audition, it was going great, then my phone started ringing, it was Natalie, we hadn't told her our plans. I was left an angry message about the advert on Forming Bands, so that got a bit awkward! (I have since made up with Natalie, she's an excellent bass player who's been in many covers and originals bands since). Mike was great however and we got him on board.
Some pictures from Mike's stint in the band
We then started to write some of our own material, sadly Mike decided to move up north to be closer to his other half, so we had only worked on two tracks with him.
After Mike left and moved away, Adam decided that he didn't want to be in a band anymore, so myself and Phil C were left with the task of recruiting a drummer and a bass player. Phil F (bass) and Mark (drums), more details on those though in 2006!