The lineup remains the same, for now anyway!
I don't remember exactly what we did at the start of the year, but in February I put together the Badgercaster, basically my already mutilated SQ Series Squire (if you know what these are, I'm sorry) got changed to a one pickup rock machine with a built in homemade Fuzz Factory clone pedal. In truth I only used it live a coupe of times, mainly to end a set with some serious noise before 'Strange Case'.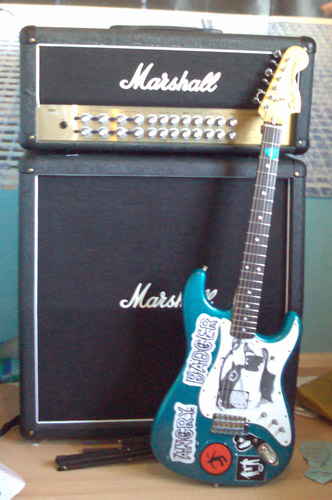 Moving along to the 13th of March, we played the first heat of a Battle Of The Bands competition at the Horn Reborn in St. Albans, this was the first gig where I thought people actually 'got us', people we didn't know were getting into our music, in the video you can see some people head banging along, nice!
We got a fair amount of people along to this gig to support us, was a good turn out, we have photos and videos from this event. You'll notice some t-shirts I'd made up and given out to our friends:
This was the gig we debuted Stop The Bells, which seemed to be well received. I'd even made up a couple of specific logos for that and Iron Clad, for the MySpace MP3 player I believe.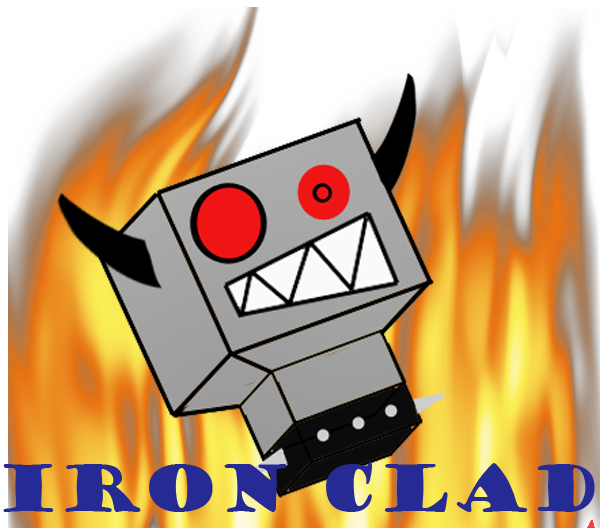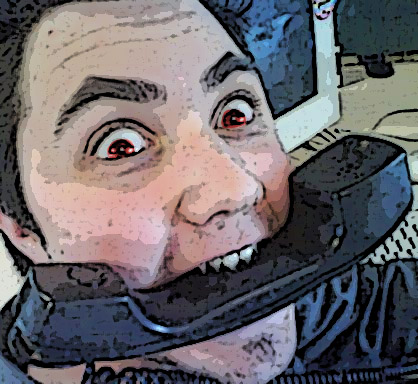 We actually won the heat (they announced this around 1 am whilst we were loading up our cars). We then had to perform in the semi-finals, but more on that later.
In parallel we were recording our second E.P, not sure what inspired it, but I came up with 'Undercover Death Funk', I think I was trying to start my own genre.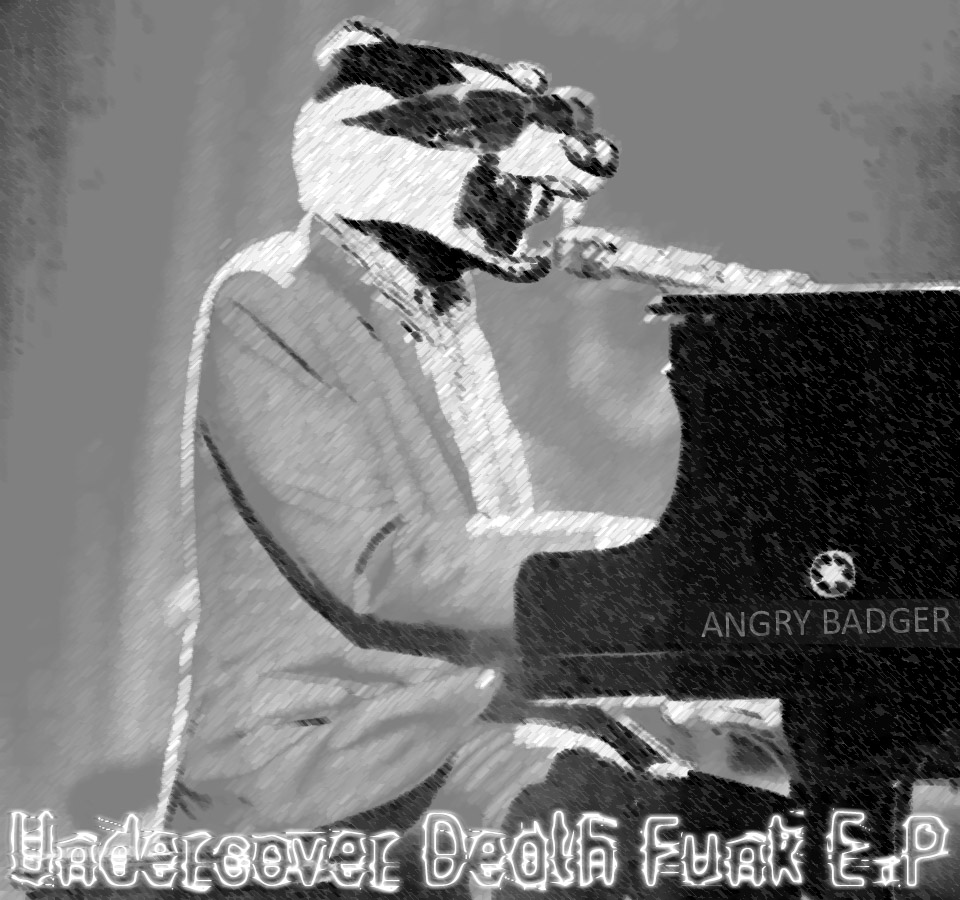 This E.P was done round a friend of Mark's house, he had a 'silent studio', guitars recorded via POD XT's, Bass the same (or DI), Drums were from an expensive Roland kit, the only standard recording technique used was for the vocals (although we did have to pop out and get Phil C some throat spray to get him through it!).
The production of the tunes came out well, the 'fake' drums always bugged me though, still, it captured what we were doing at the time:
So, back to gigging again, I'd now taken to either mutilating famous images and posters to promote us, as you can see below: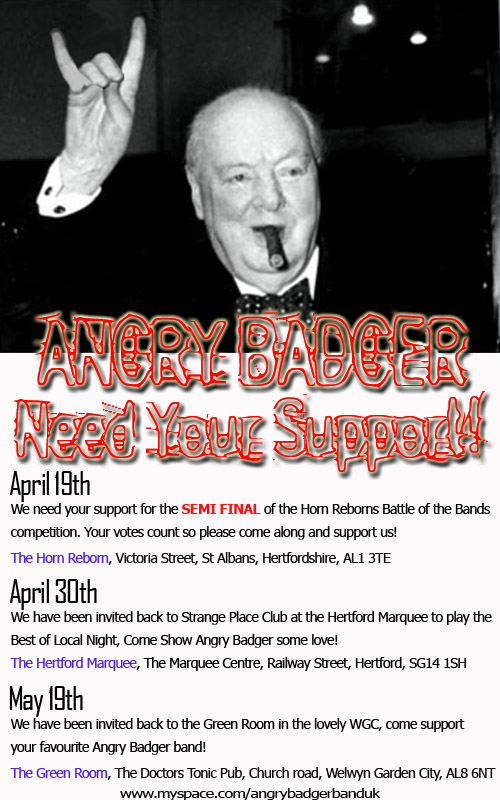 As you can see above, the BOTB semi final was in April and to be honest it was a wash out, we couldn't round up many people this time. Not to sound like a sore loser or anything, but the band that won bought a coach worth of people with them, including their granddads! Still, we got to rock some people we didn't know and got some good compliments from people.
I don't remember much about the BOL gig this time, other than getting annoyed with one of the other bands who'd turned up with barely any equipment and wanted to use our stuff, I refused on principal.
We then played the Green Room for the first time in May, to be honest, like every other gig I've been to there it's been a bit empty, still, I think we earned a whole fiver for this gig, which was the first time we'd been paid.
It's at this point my memory get's a little Hazy, what I can tell you is at some point during the later half of the year Phil F ran out of time to be an Angry Badger, so we were back on the hunt for a bass player. If my memory serves me right we had a small break in between Phil F leaving and us finding our new bass player, Keith. More on that in 2008. I'll ask Phil F if he remembers when he left (now the bass player in 'Honey Badger')