July 23rd 2014
After hankering for a Gibson Explorer again last year, (I'd had a Gibson Government Explorer on order, sadly Gibson treats the UK like the poor relation at times and we never got any (or anywhere else in Europe as far as I can tell)). I noticed this weekend that Precision Guitars have finally started to offer an Explorer guitar kit, I emailed Phil (at Precision) straight away to see if they could accommodate my Custom Explorer idea.
I'd been wanting a Gibson Explorer in the style / spec of my Alpine White Les Paul Custom since the moment I saw Lzzy Hales Signature guitar (sadly, not in production), her one is almost right, but has a bit too much gold for my tastes (inspiration as per the image at the top of this blog entry).
Phil quickly confirmed it was possible, a build sheet was drafted and money was exchanged, the build should be finished within 4-5 weeks, then shipped from America.
My order with Precision:
Body:
3-4pc White Limba body
Routed for dual Humbuckers
Drilled for TOM bridge and stop tailpeice
Wiring channels and jack hole drilled
Neck
Quartersawn White Limba neck

12″ Radius Indian Rosewood fretboard
6mm position markers
Dual action truss rod
22 Jescar medium jumbo 45/100 frets
2.5 degree neck angle
9 degree headstock angle
10mm tuner holes
Medium "C" neck back profile. (.87″ @ 1st / .97″ @ 12th)
Custom Extras
Ebony fretboard with Block markers
7 ply binding on the top of the body (the option was available for the back too, but decided against it)
7 or 5 ply (TBC at time of writing) binding on the headstock
White binding on the neck
The next steps are to start ordering parts, the shopping list comprises of, pickups (TBD), black pickup rings, selector switch, pots x3, multiply pickguard, bridge, stop tail piece, jack + jack plate, tuners (TBD – but gold, either round grover style or tulip), strap locks, truss rod cover (split diamond motif) and headstock logo. All of the hardware will be gold like my Les Paul Custom.
Mockup of the body (Lzzy Hale in the background – I've photoshopped some of the guitar):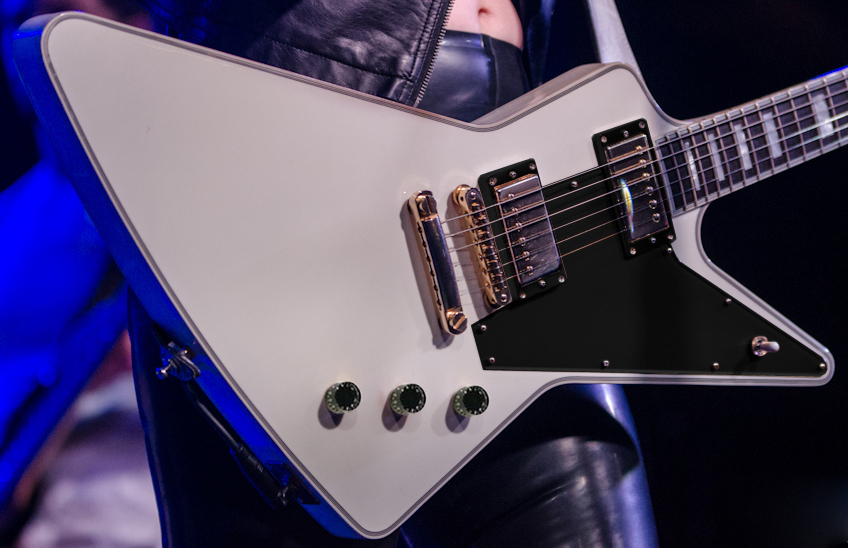 Some items are yet to be decided, mainly on the headstock;
Colour: I can't decide if I go for a traditional Gibson Custom style and stick with black, but the white does look good on the Lzzy Hale model – I'll do some photoshops and decide.
Headstock logo: Witchalls is too long for the space it'll go, so I'm thinking I'll get two options ordered up in M.O.P in the Gibson font, one of both names we have in mind for our baby (due end of July) one boys name, one girls ?
That's it for now, progress to be documented as it happens ?
EDIT – 26th April 2014 —————————————————————
Build sheet confirmed (with 5 ply headstock binding)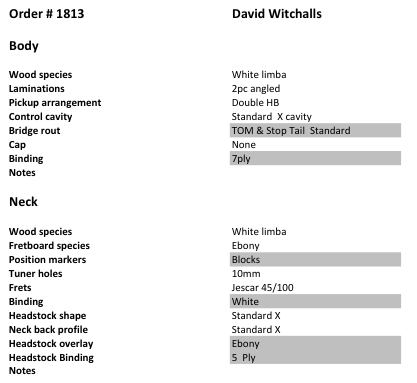 June 29th 2014
Some progress on the Explorer!
Firstly, I ordered a set of gold mini locking grovers from StewMac, these have now arrived, ready to be fitted ?
Secondly, the biggest update… the guitar is currently in transit!! – Phil emailed me on Friday the 27th to advise that there had been a problem, one I still can't quite get my head around, during the build of my guitar, they used rosewood instead of ebony for the fretboard. I was completely gutted, this left me with two options, either wait another 4 weeks for the guitar / neck to the re-done (the bodies and necks are matched I believe) or accept it won't be 100% as planned and accept a partial refund.
Phil sent me a picture of the guitar and fretboard, once I saw it I knew I could live with it, it's not quite as I originally planned, but it's still going to look amazing!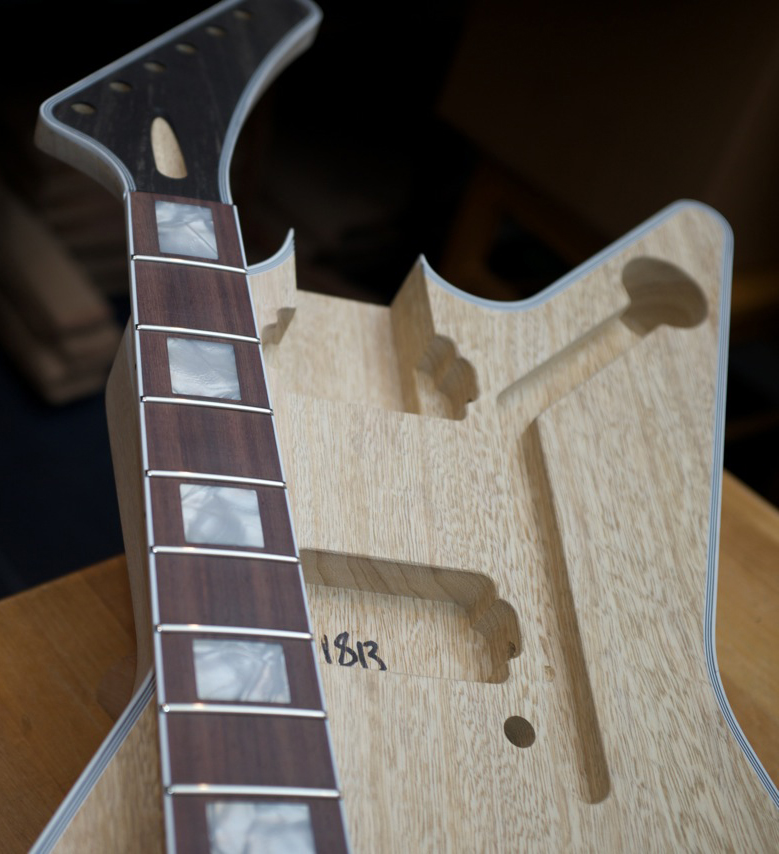 Now the guitar is in transit, I thought I better start ordering up some hardware and other important parts;
Pickups: I've chosen 'Scrapyard dogs' a custom order with gold covers from Oil City Pickups (recommended by many people on thefretboard forums)
Hardware: Switchcraft toggle switch, Switchcraft jack, Gold jack cover from philadelphialuthier tools on eBay, Pickguard cover from a US eBay seller (rare in the UK?), black speed knobs, black pickup rings
Logo(s): As mentioned earlier, I will be using the name of my firstborn child in a Gibson-esq font, we don't know what sex the baby will be yet (Due 26th July!) so I've ordered one of each of the names we've chosen from Tulsa from the mylespaul forums, here's two mockups I've done whilst I wait for the official artwork. I'm 100% confident the finished articles will look better than this, I had to use a very low quality copy of the font.
Truss rod cover: Yet to figure out who can make this for me, but I'm trying to get a split diamond inlay truss rod cover, I've prepared the artwork and done a mockup: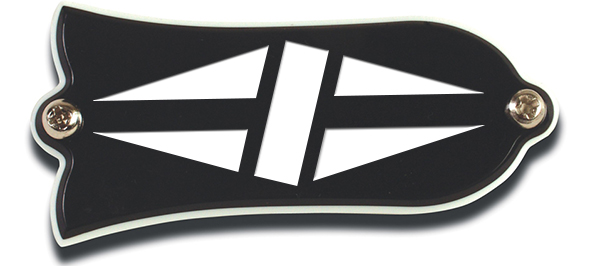 Next update once some of the items start to arrive ?
July 3rd 2014
It has arrived !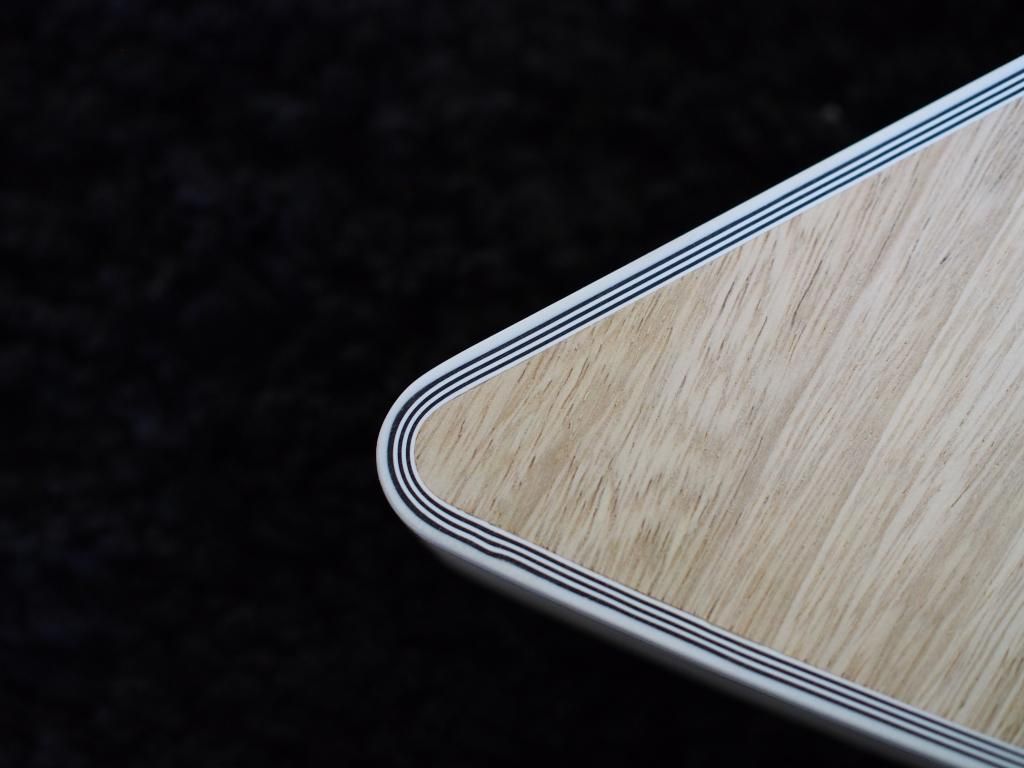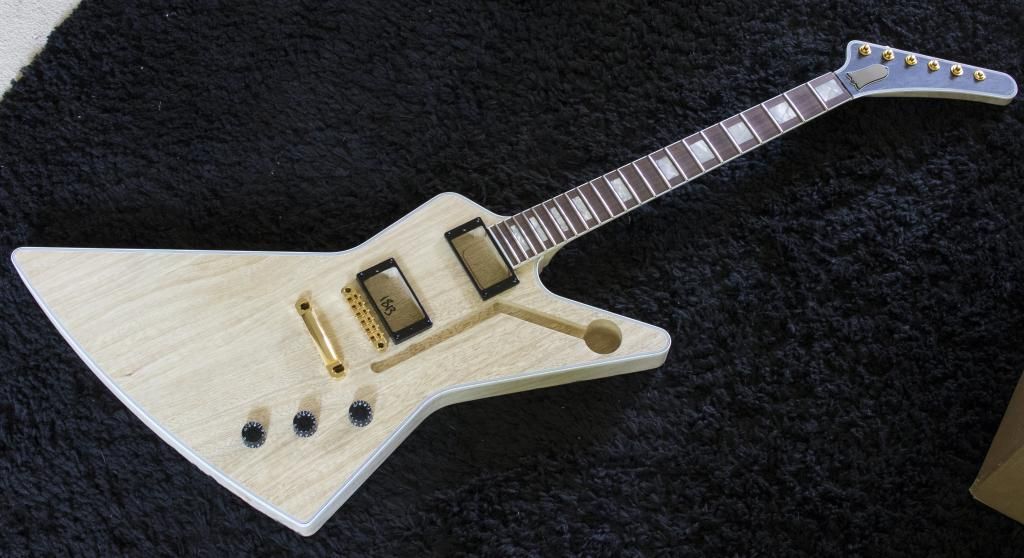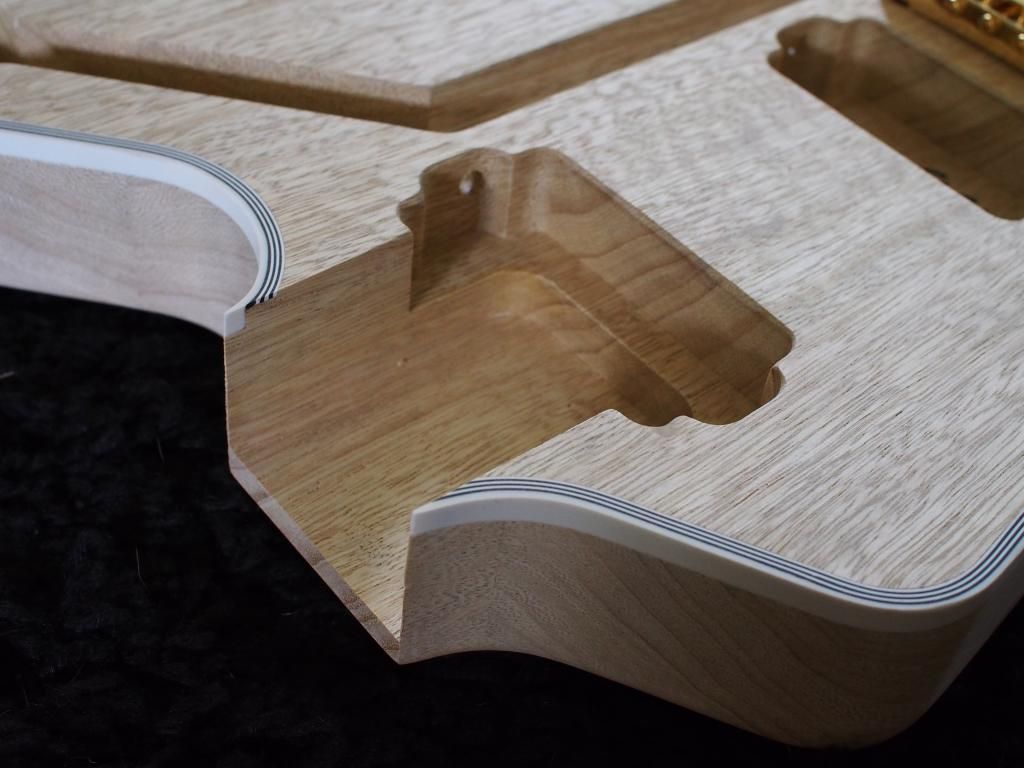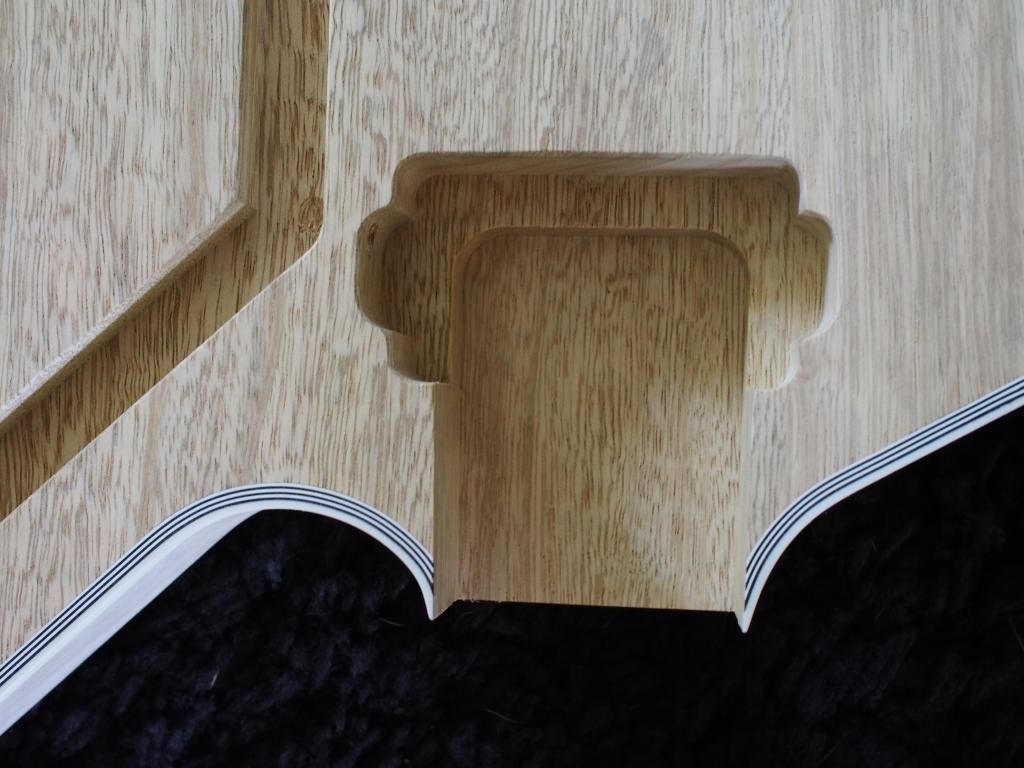 Workmanship looks top quality – Can't wait to crack on with this!
Mojo loom has been ordered (and dispatched), pick guard ordered (not sure it'll fit), custom truss rod cover ordered and artwork for the MOP headstock logo will be with me shortly.
July 12th 2014
Pickups from Oil City have arrived
Wiring loom from Mojo has arrived
MOP inlay designs finalised and posted (not received as yet, coming from Canada) – picture of the finished products though: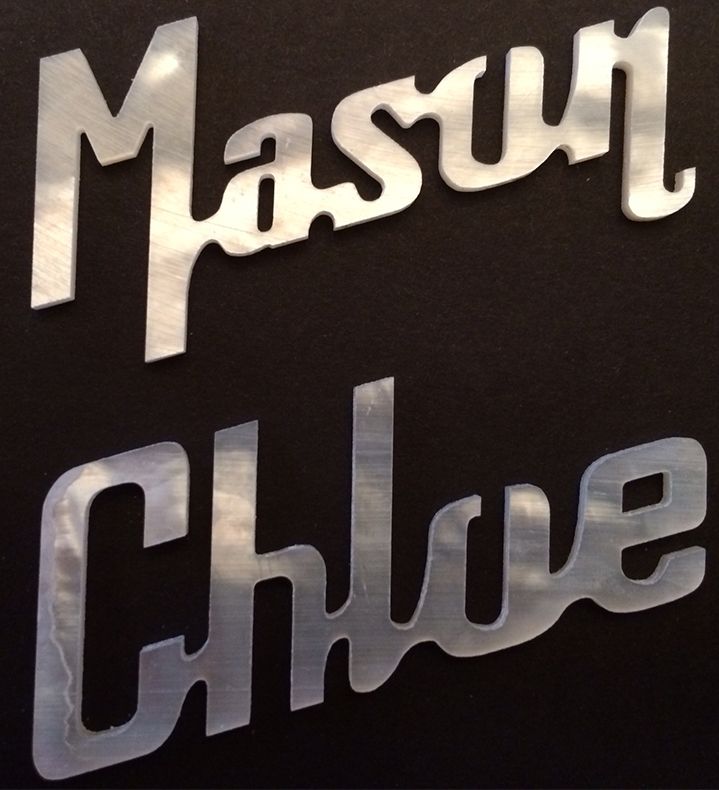 I've also found out that a standard Explorer pick guard won't fit (after ordering one from America to find out), so with the help of a template I found online, a printer and some photoshop work I've now made a template for the pick guard that I'm happy with, I've emailed a copy to Jacks Instrument Services for a quote to have it made in 4 ply (black).
No update on the truss rod cover from Rothko and Frost yet, I did send a chase email, but no reply. Ordered the 1st of July. Will chase again Monday.
July 23rd 2014
Pickguard and backplate have arrived from Jacks Instrument Services, really impressed, firstly my plans were correct(!) and secondly what an excellent job they (Kieran in this case), they actually gave me the backplate for free, as it was 'easy'
If anyone does decide to make one, I'm happy to share the JPG's
On the pick guard picture, it looks like there is a gap next to the neck pickup, that's just because it's not sitting flush, I either need to trim the height adjustment screws or drill some holes in the body.
I showed my guitar repair guy and got him to send me the price(s) to do the work. I need to have a sit down, once recovered I'll work out which bits I'll do to save some money and which I'll leave with him.
July 27th 2014
The logo was chosen, my daughter Chloe was born on the 26th of July 2014 ?
September 27th 2014
Finally some progress, after the inlays arriving smashed, the first replacement set never arriving and of course, a lot less free time than I once had, I have finally managed to route out the space for the headstock inlays
Using a tiny router attachment, then a larger one in the Dremel, this is what happened:
Getting everything lined up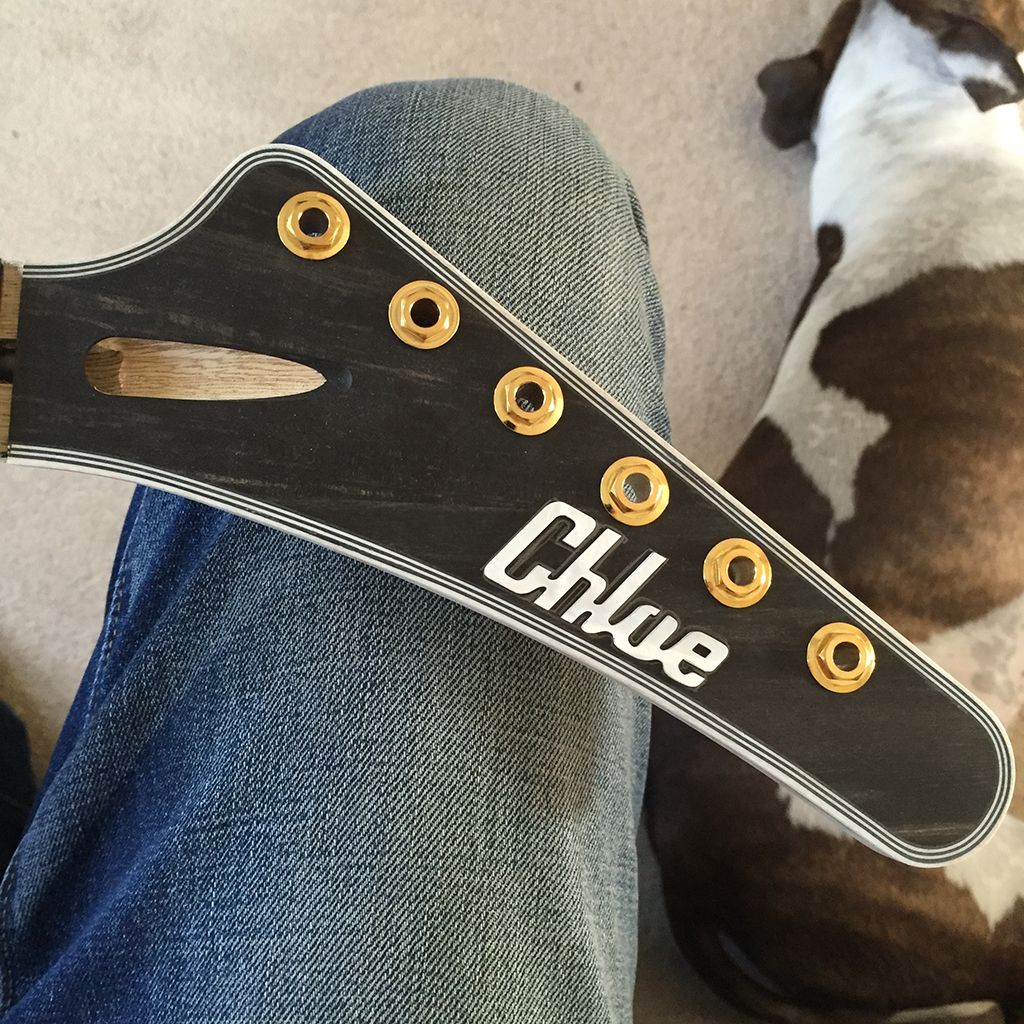 First small routes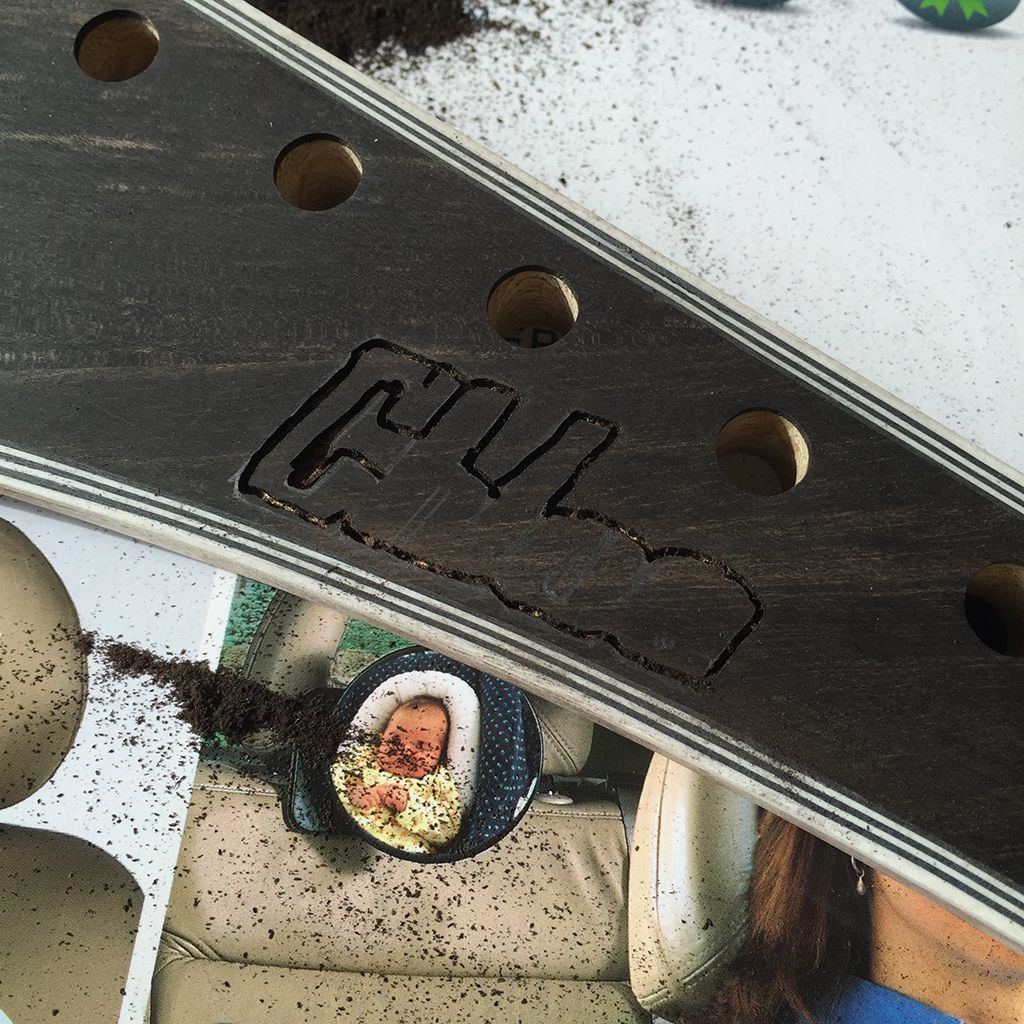 Then the cavity routed out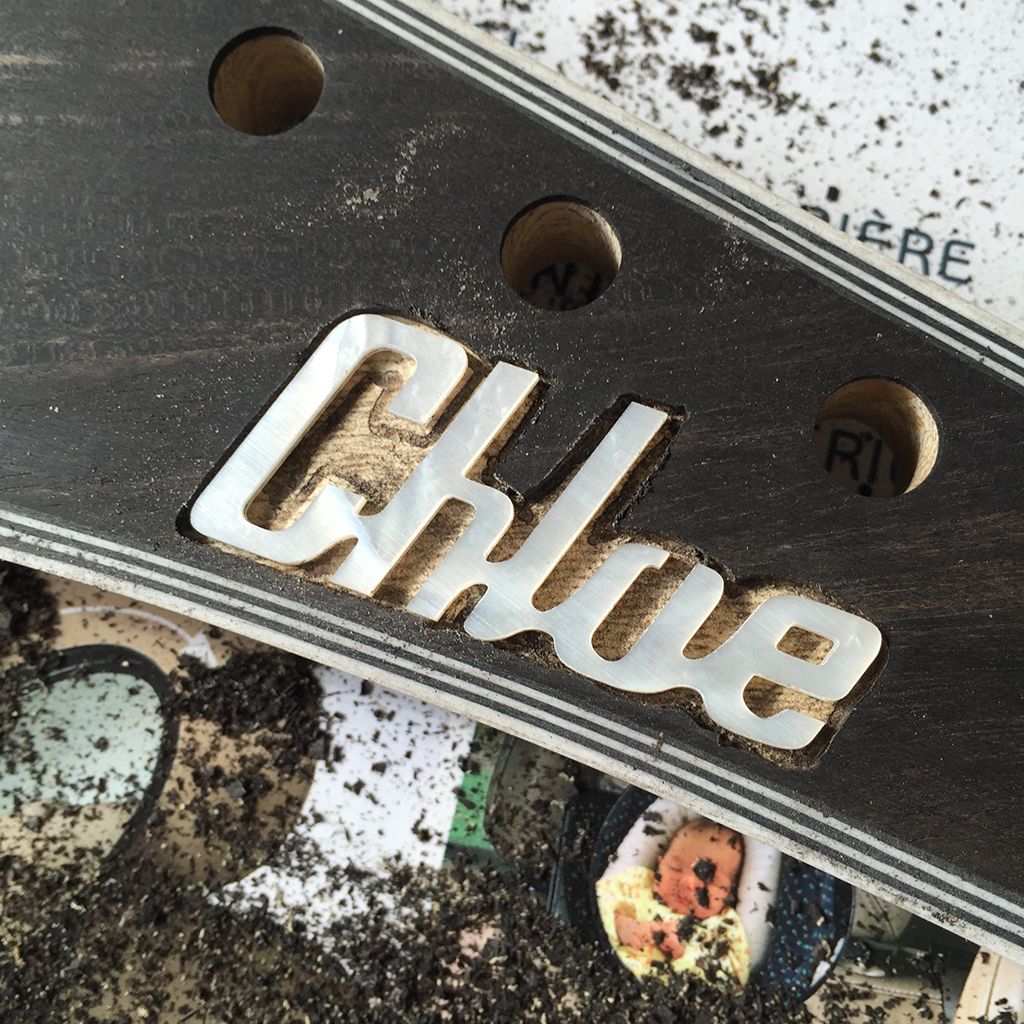 The ebony dust has been saved, ready to make up some black glue like gunk to fill in the gaps
November 12th 2014
Guitar dropped off to CA Guitarworks (now defunct) for paint and assembly
November 17th 2014
Couple of progress shots from last week (Pictures by CA Guitarworks):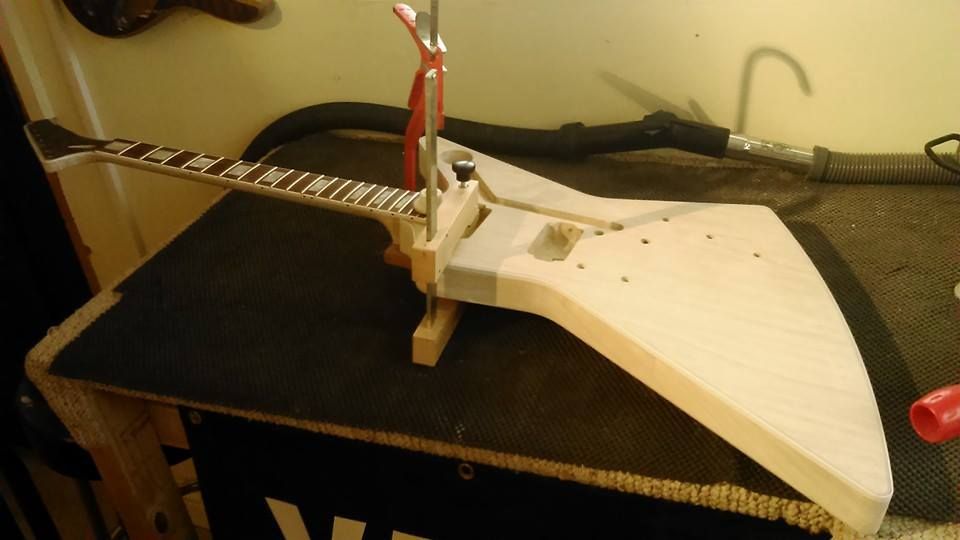 Body and neck sealed and sanded. Neck now glued and clamped.

MOP logo glue in
December 2nd 2014
Sealer coats going on
December 11th 2014
Some more paint shop progress (white basecoat):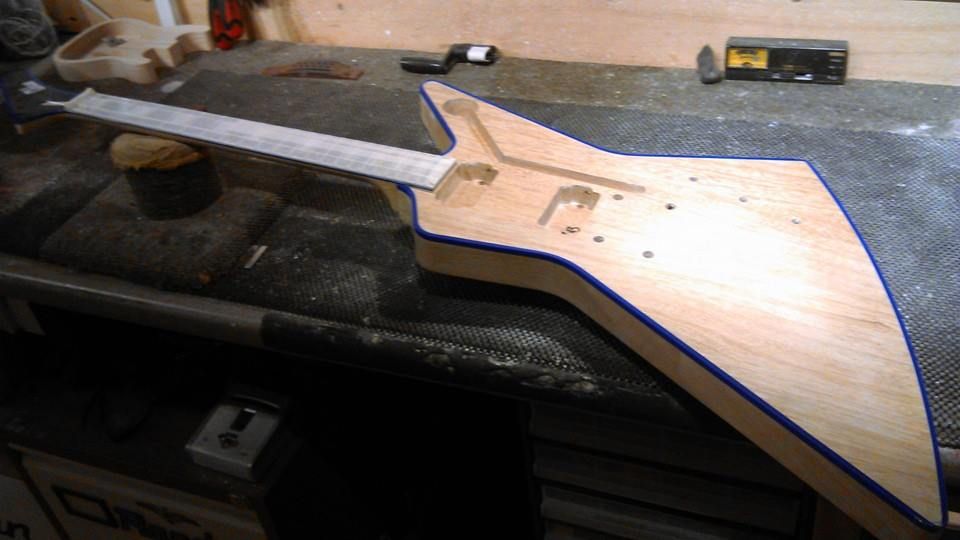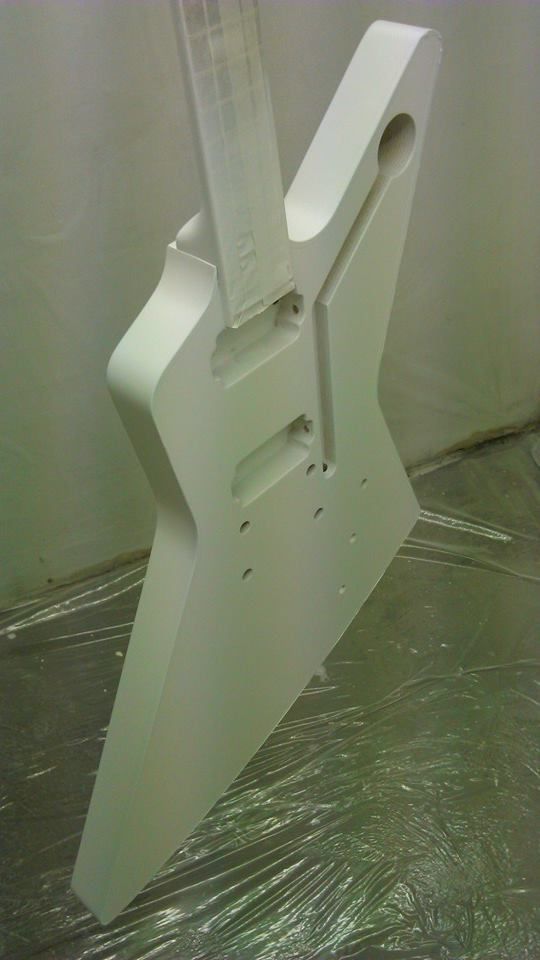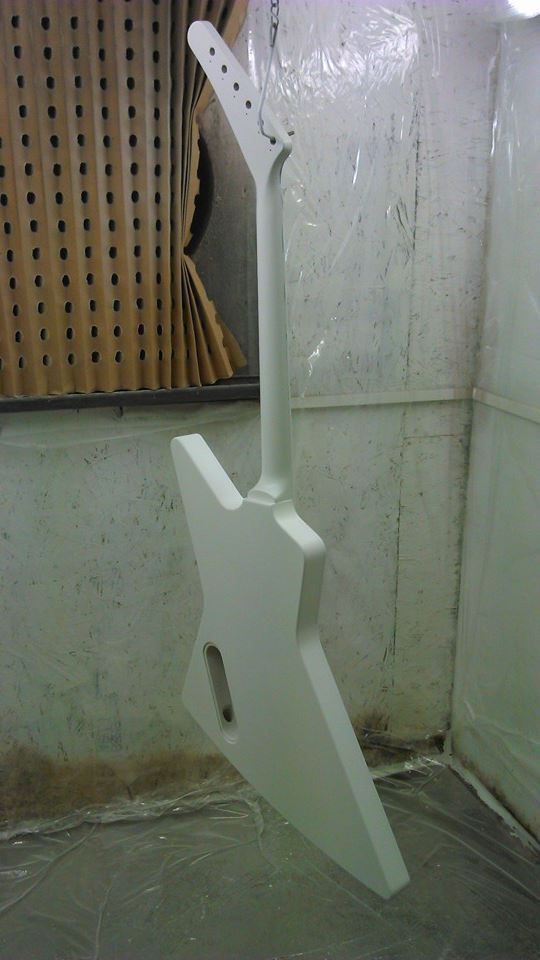 January 8th 2015
Sooooooooo clooossseeee, looks amazing! Ready next week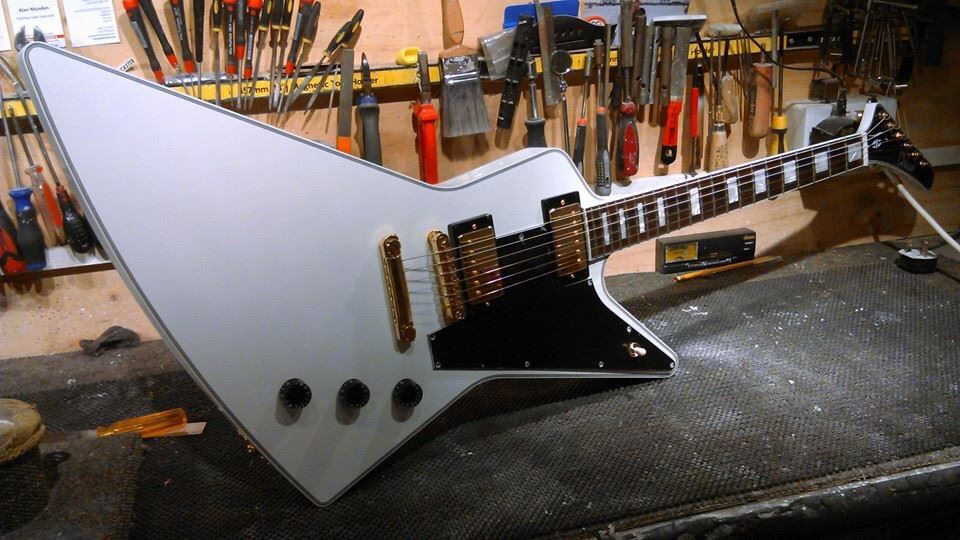 January 9th 2015
It's finished and collected! Only been able to play acoustically so far, action etc.. is great and it's a heavy ol' lump. So happy with how it turned out
January 11th 2015
Couple more pictures that I didn't get round to editing and the standard hanger picture:
July 7th 2016
I thought I'd have a go at staining the neck on the explorer. Using a Minwax ebony stain pen, I applied over 3 days.
It's not black, but it's certainly a lot darker and looks black from a distance