August 7th 2014
Always fancied a Pink Paisley, I started searching for them again after seeing the one for sale on here and found out that Allparts make a licensed PP body
More searching later, the UK price was £600+, I ordered via eBay one of the USA sellers, after paying VAT on it today, it came to just under £400, which is still a lot, but the quality is amazing!
Here it is as it arrived, next to a very special neck (it's like a piece of art!) I got from GSPBASSES as part of a Tele thin line partscaster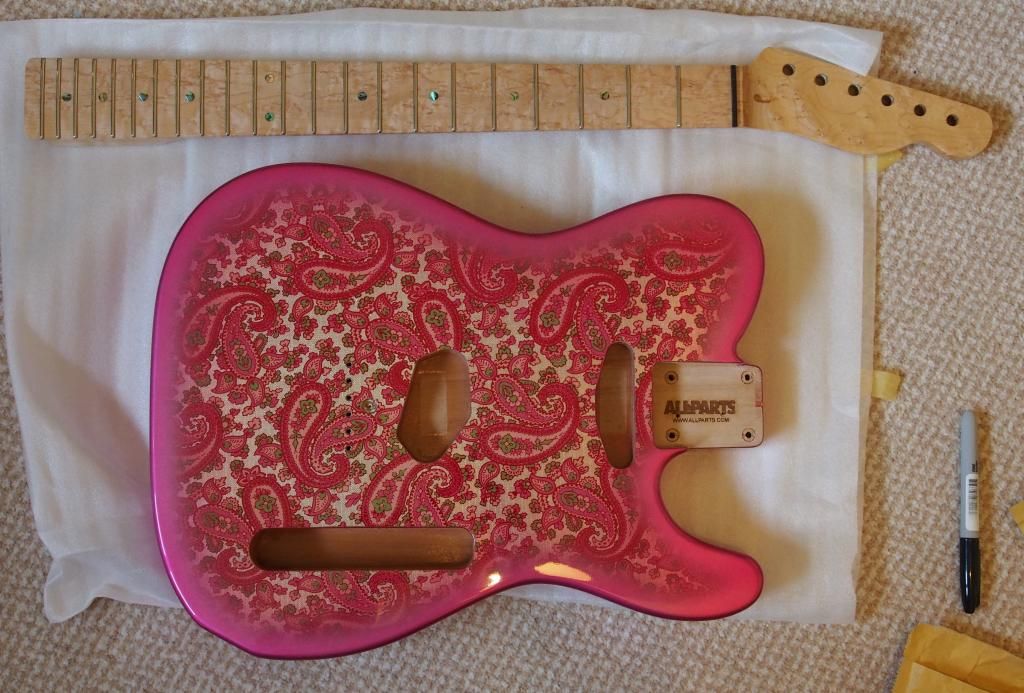 Not letting my lack of skill or knowledge get in my way, I started measuring out, ready to drill the holes for the pick guard I'd sourced, bridge and control plate. After measuring / checking the pick guard and bridge layout about 10 times, I was ready for drilling (held steady with lots of masking tape)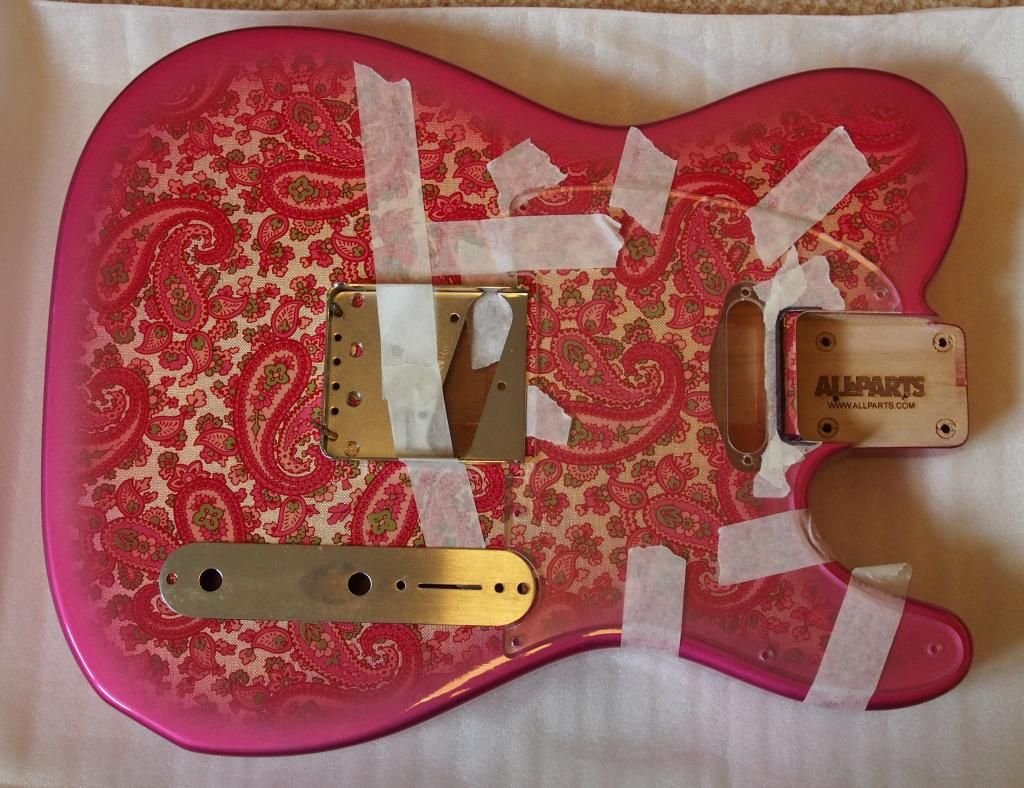 Some nervous drilling later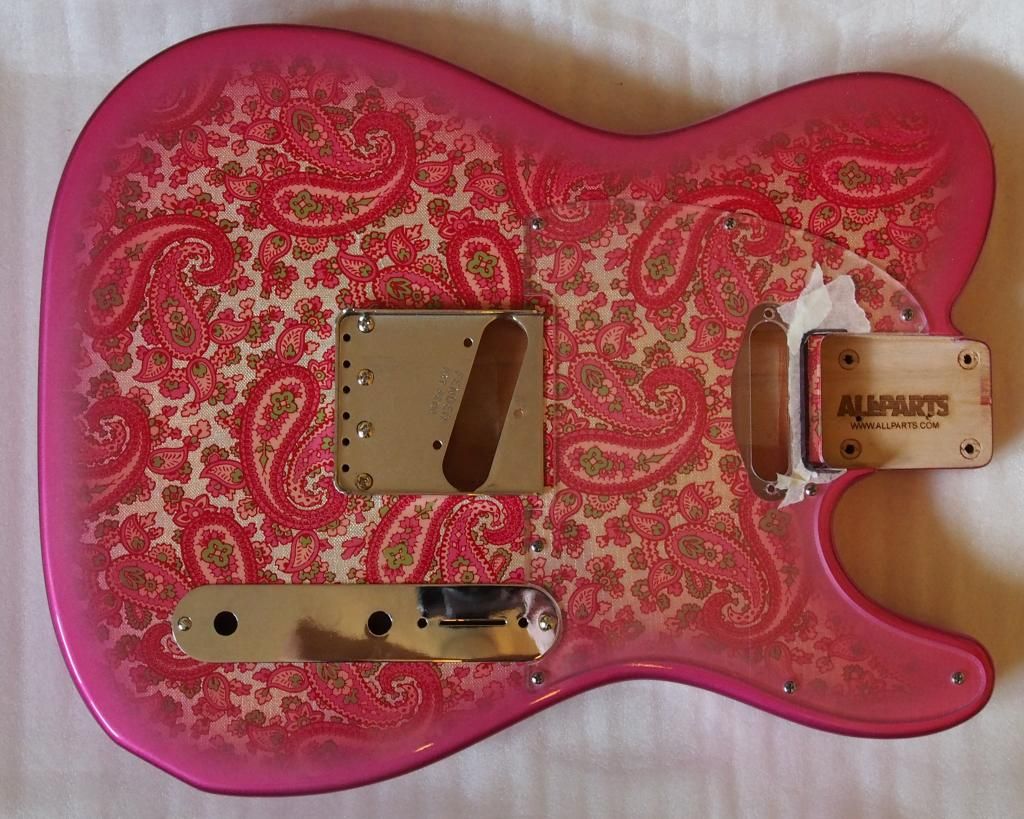 Pretty happy with how it went, the control plate isn't perfectly straight, but more than good enough!
I got the closest pink I could find mixed up in Halfords today to go on the bottom of the pick guard, but that's not to be done until I decide what neck to use, as that will likely involve modifying the pick guard with the Dremel to allow a 22 fret neck to fit in place. More on that in a bit.
I then turned the guitar over and fitted the ferrules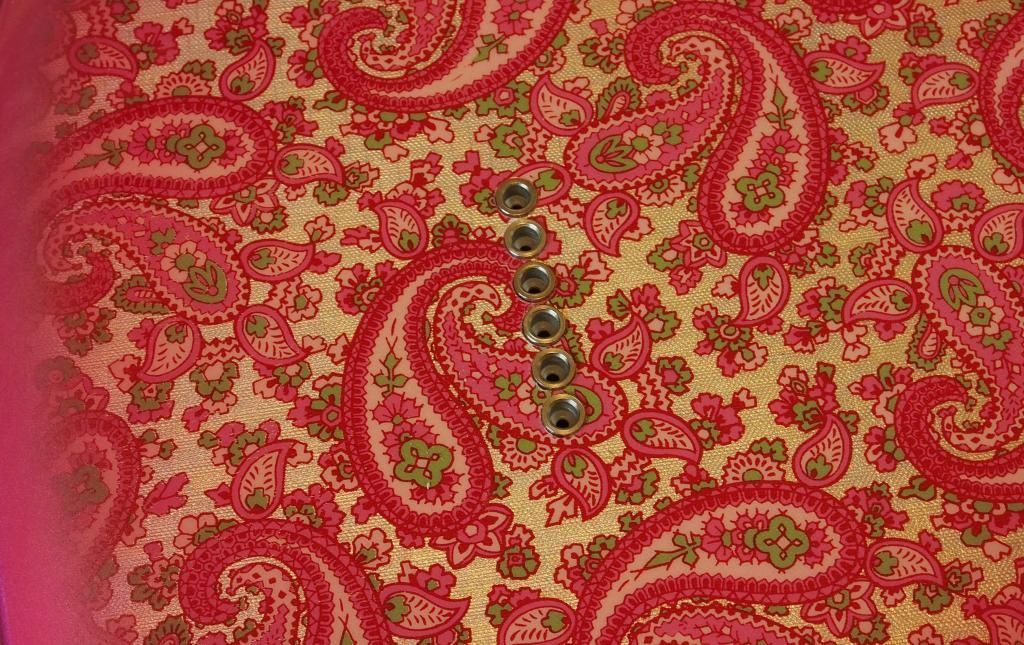 So the neck, I originally planned to use an Allparts TMO-C, I bought one and a Wudtone vintage yellow kit, but sadly my impatience and lack of skill originally made a bit of a pigs ear out of it, I've recovered most of it, but he fretboard is a lot lighter where I kept having to wire wool back (after going a bit OTT on the first attempt at cutting it back).
This is it prior to the clear being added to the fretboard

Headstock with logo from guitardecals.co.uk
However, pale fretboard aside, as soon as I received the parts caster bits from Grahame (GSP), I decided then I couldn't use this! So I have another birdseye / birdseye neck on the way! Once that arrives I can decide which one to use for this and which to use for the thinline
So progress is stalled for now, until the neck choice is made!
I have all the rest of the parts just waiting, including pickups (Thames Deltas) from Ash @ Oil City, can't wait to get this finished!
August 8th 2014
Had a go at the pickguard today, it trimmed down near the neck easy enough (I've decided to use the 'posh' neck ), the spraying on the other hand is now more of a solid block of colour, rather than a fade. I've thinned out the paint a little on the edges with white spirit.
Once it's fully dry I'll try it on and maybe try and feather it out a bit at the ends with wire wool / thinners. I managed to find a clear pickguard for a paisley on eBay in Spain today, so I've bought that just in case this looks terrible.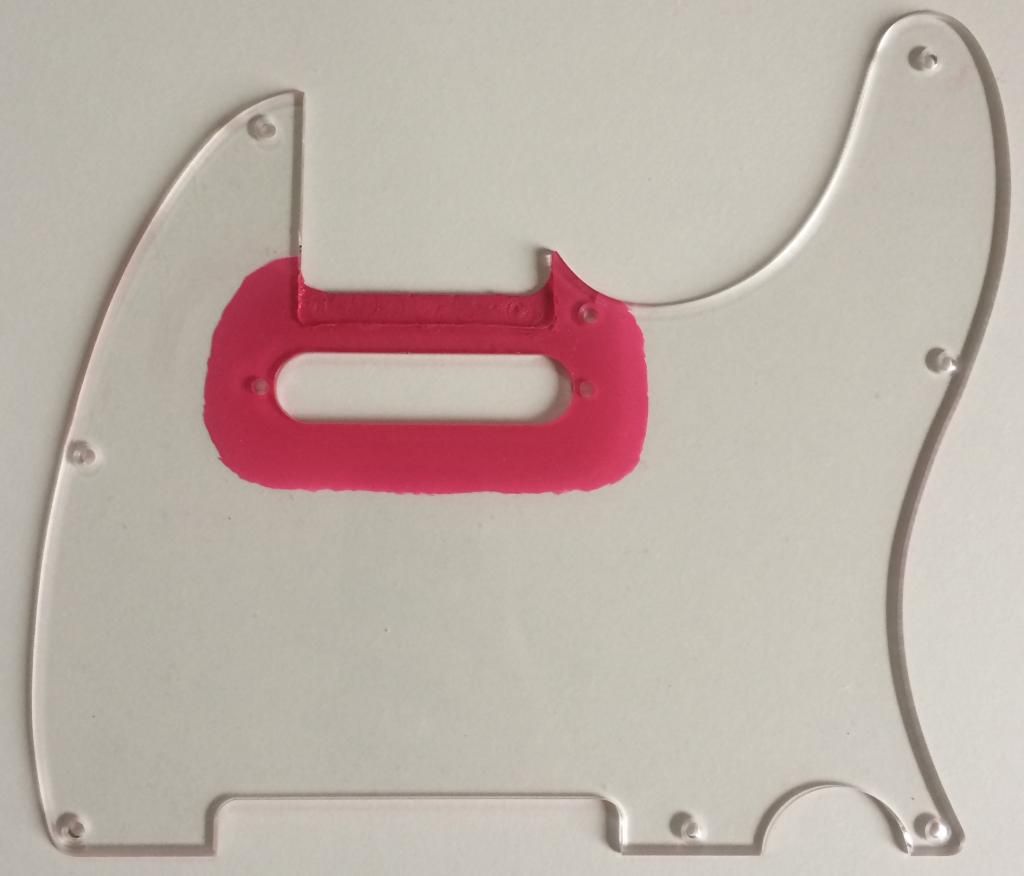 Well, I can't seem to make the edges any more faded, so I just reduced the size of it down for now, it'll do until the eBay one turns up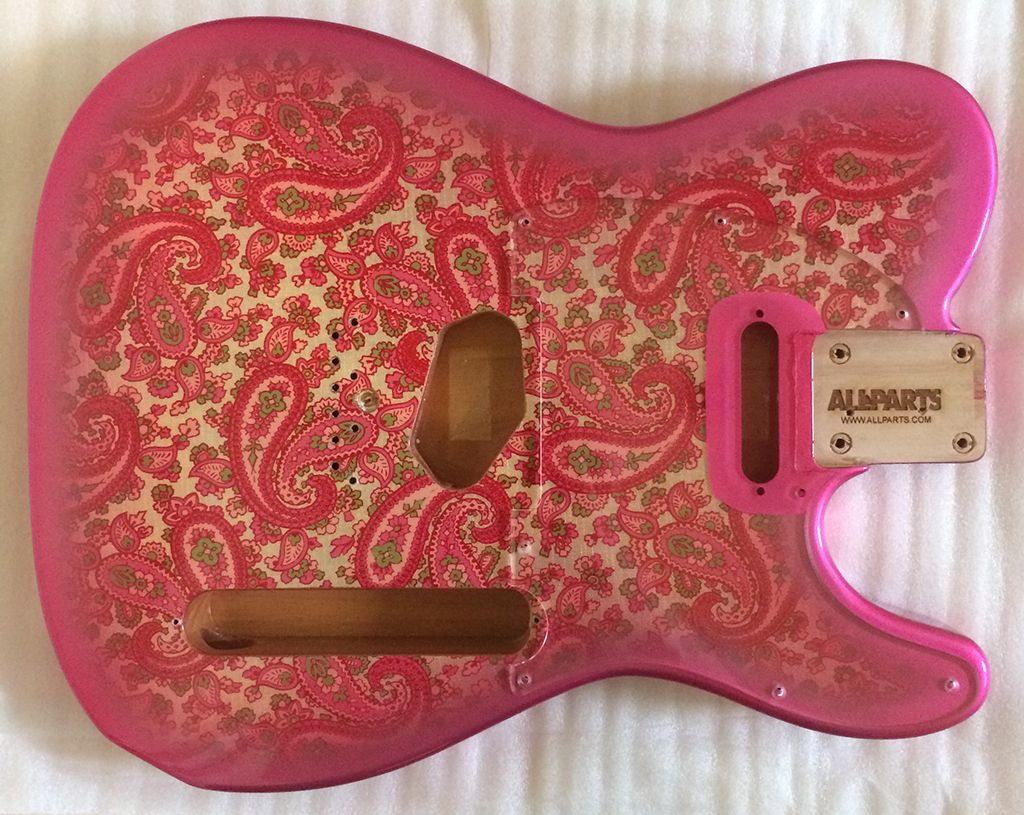 The pickguard was annoying me, so I cleaned it all off and tried again, about 8 times.. Once happy, I left it to dry indoors. Just went to clean off the overspray and the guard had cracked .
Airbrushing a new pickguard is the way forward (eBay Spain guard on order too, I'll get this right one way or another )
August 16th 2014
FFS! The pickguard arrived from Spain and it's a home sprayed job, done badly at that, overspray and some tiny cracks in it
On the plus side, I am going to try and remove the paint and use it for practice with the airbrush kit I bought.
I'm also now not using the neck pictured, I'm waiting for my new one from GSP
August 23rd 2014
Some progress on the pickguard
I ordered this kit from eBay:

I sprayed some of the paint into one of the pots and set to work.
Two different clear guards arrived this week, after many practice attempts on paper, I ended up with these two: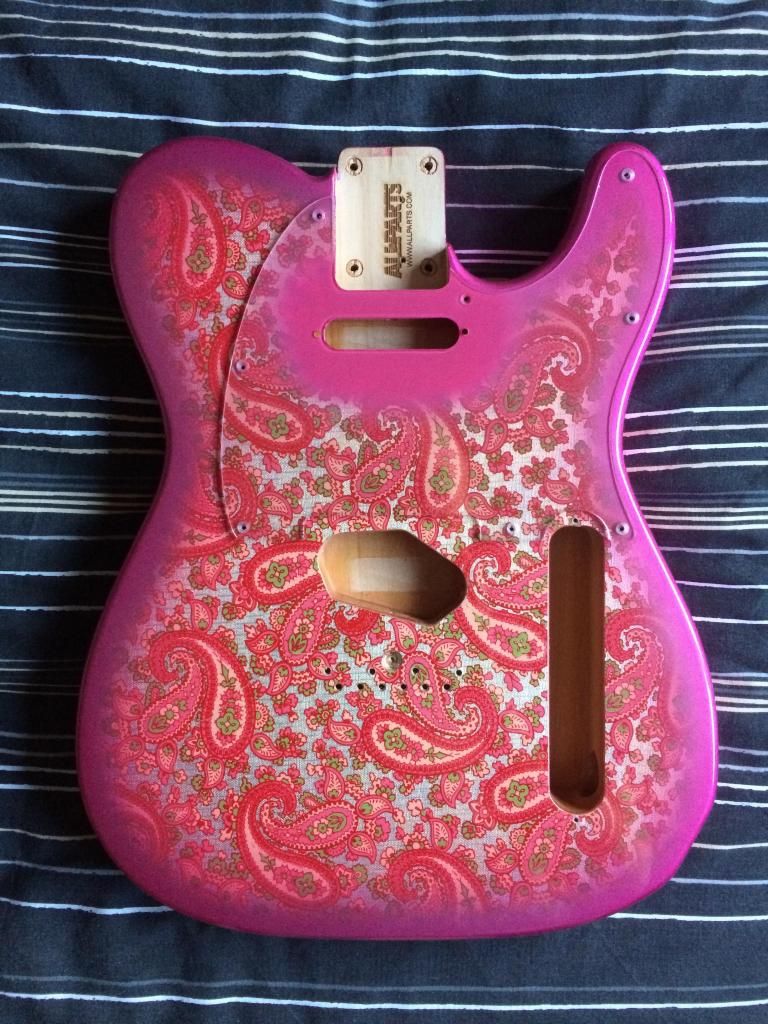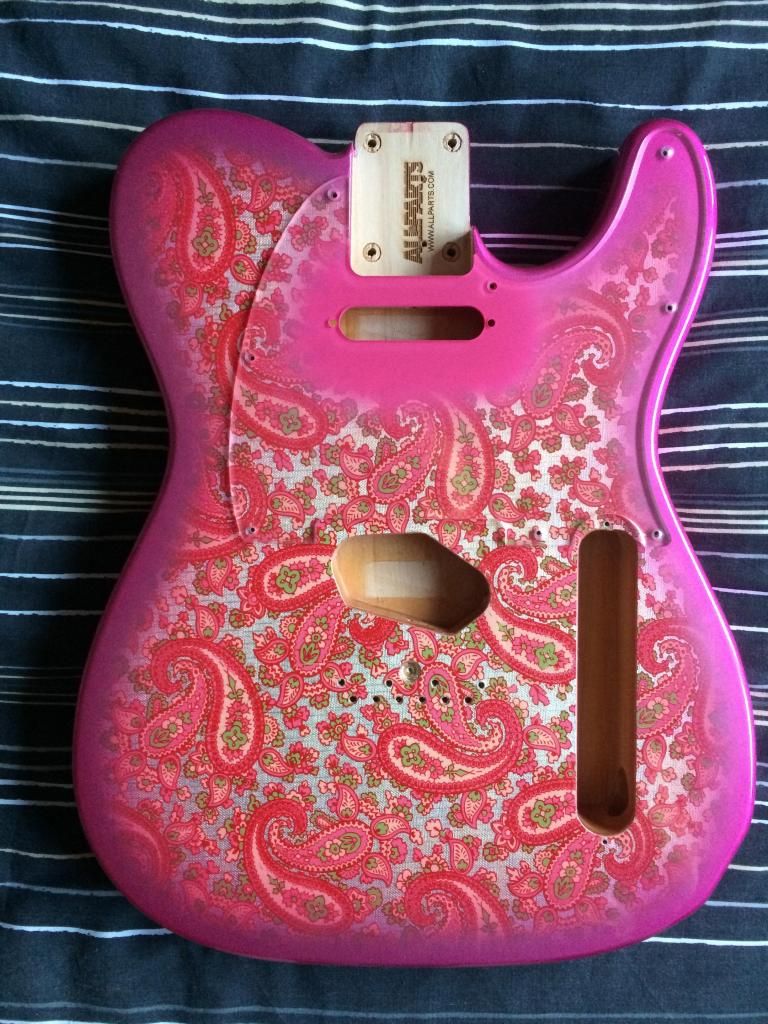 Fairly happy with both, they do have overspray, which I'm debating what action to take. You can't see it when the guard is on the guitar, but I read that t-cut is OK to use… I'll get some and try it on the test guard (the Spanish one) and see what happens. Either way, the guitar will be wired up and tested ready and waiting for its neck by Monday
August 26th 2014
Finally ready for its neck now, a day late due to my soldering iron dying.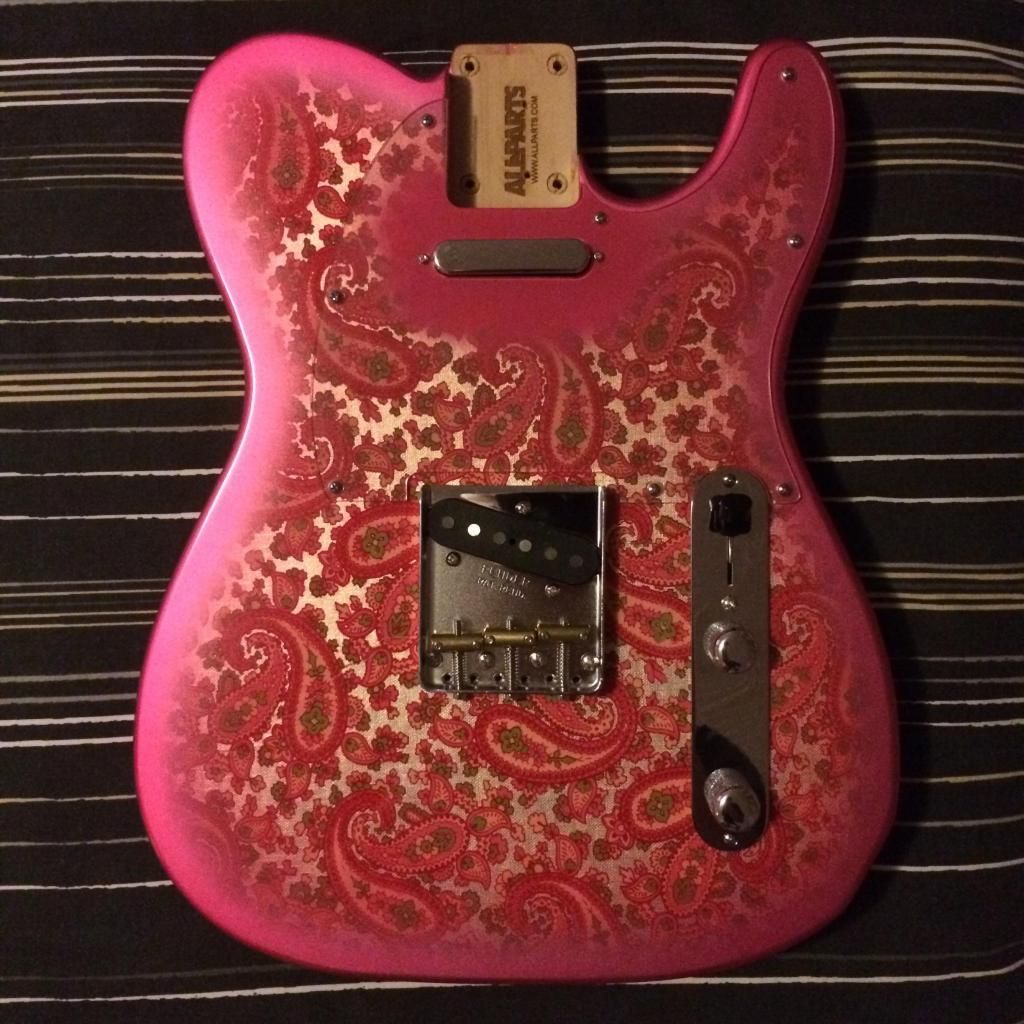 September 3rd 2014
My new neck from the very talented GSPBASSES arrived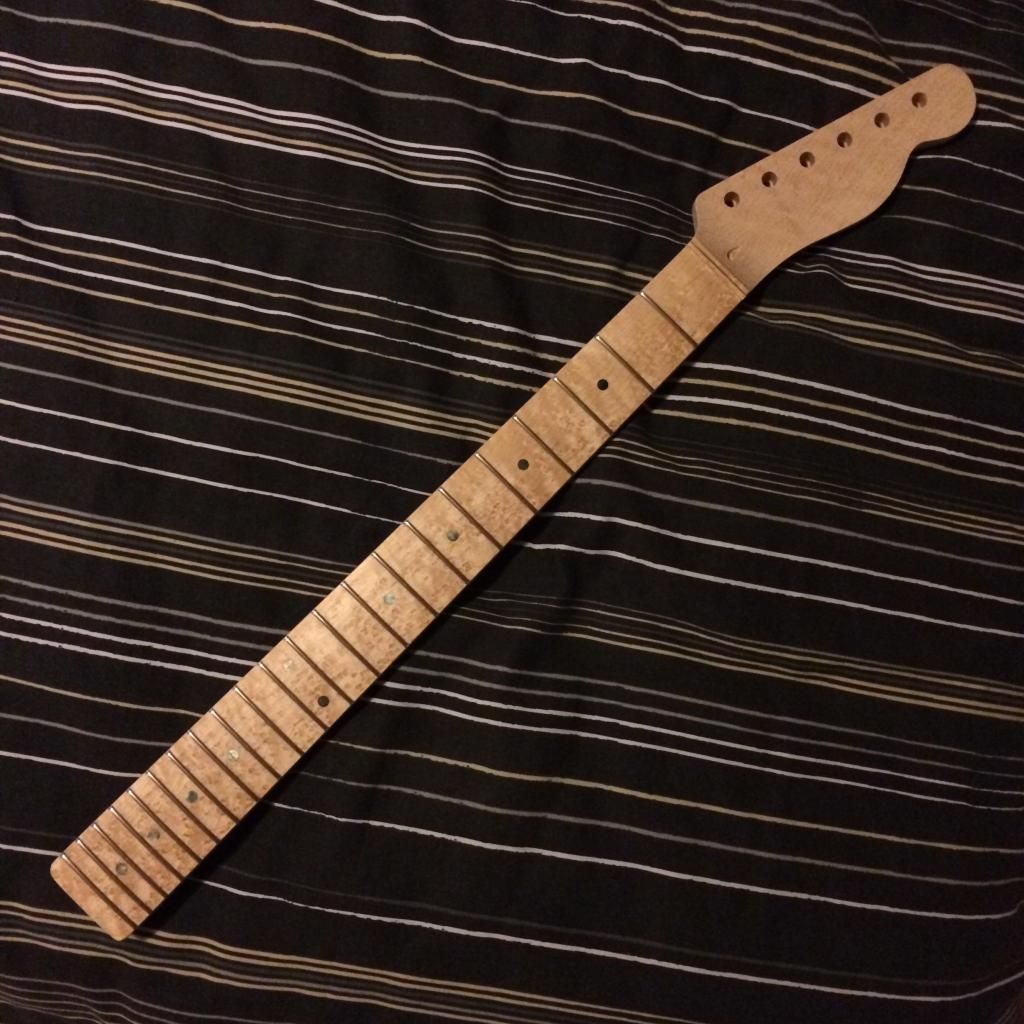 Fretboard is finished already, headstock and the back of the neck is up to me, which is great as I have a waterslide decal to fit once one layer of clear is on the face of the headstock, hopefully I can make some progress before this weekend.
September 13th 2014
Work continues on the neck, front of the headstock done: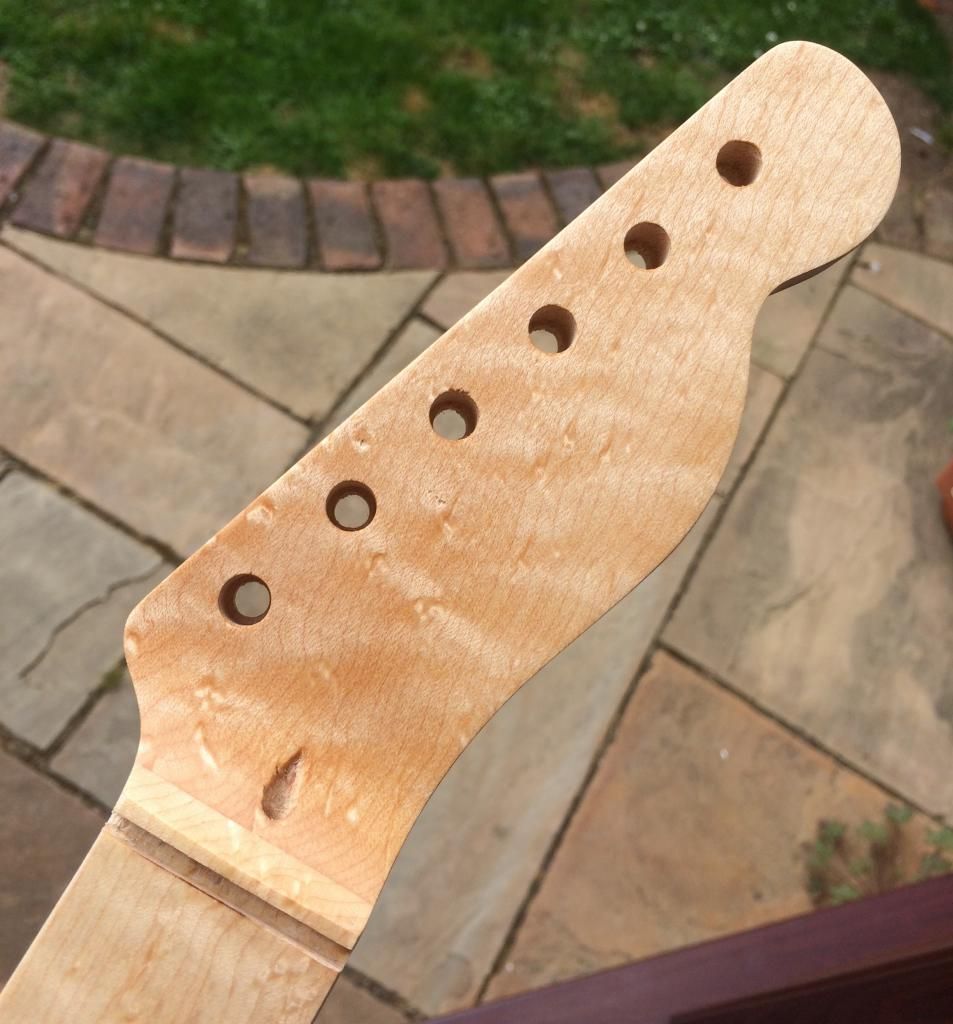 First coat of clear now applied to the back, second coat to go on Monday or Tuesday evening
September 14th 2014
First clear coat on the back of the neck drying off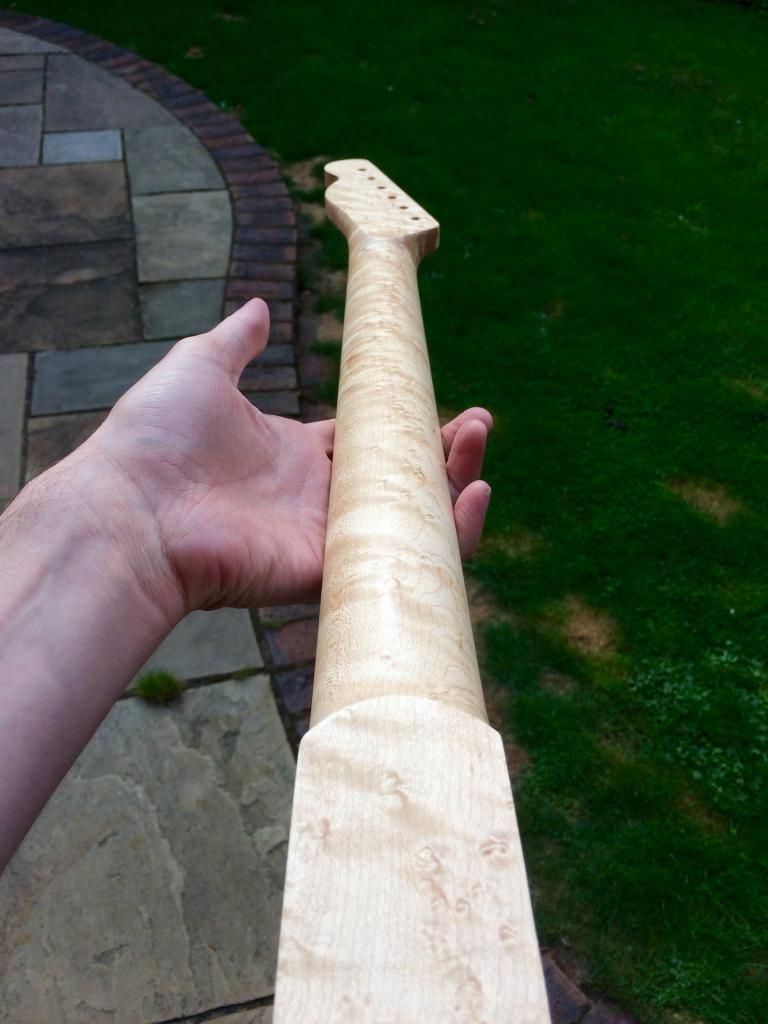 September 27th 2014
Neck is almost done now, back is finished, looks and feels great, the headstock has had a good few coats, the decal arrived this week, applied today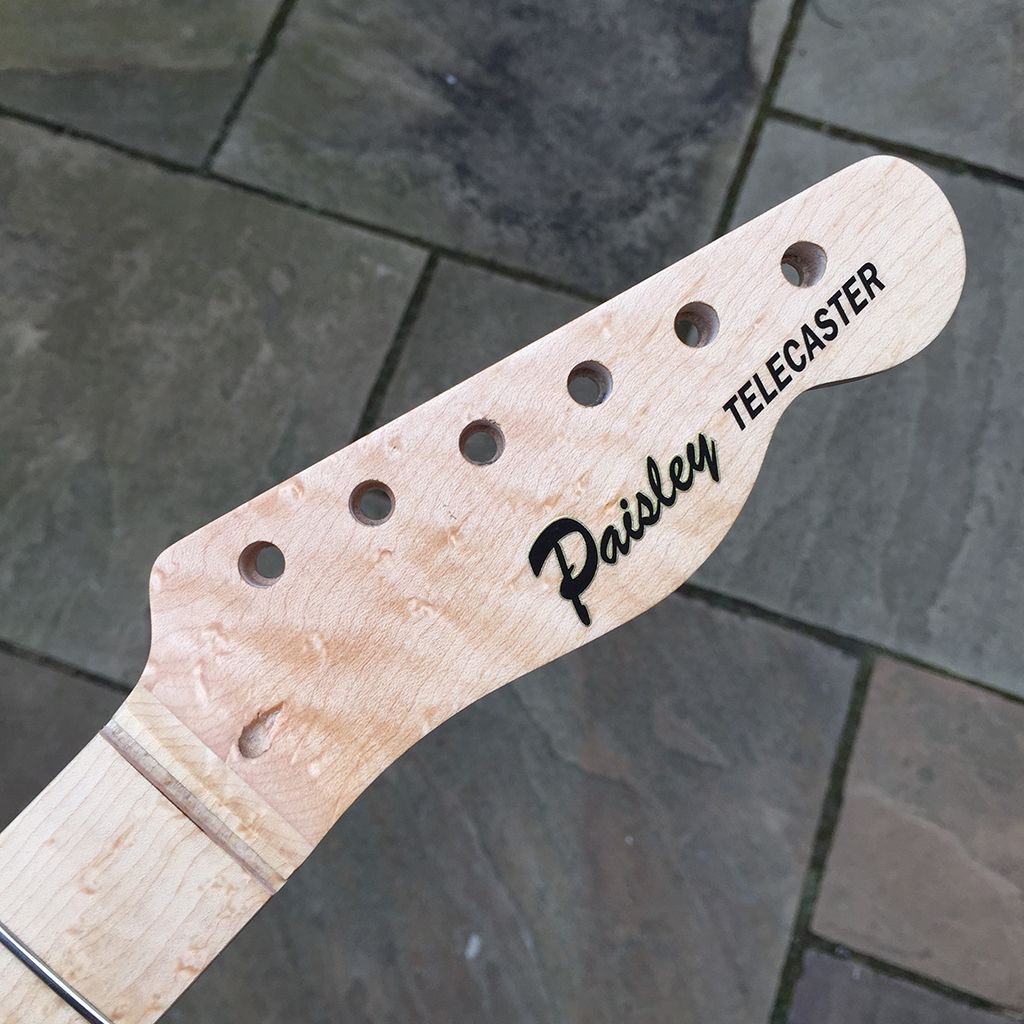 7 days rest for the headstock to set before I fit tuners and hand the guitar over to my tech for a setup
October 4th 2014
Couple of coats of clear Wudtone over the decal, you can still see the outline of the waterslide from some angles, but short of using a spray can of lacquer it's good enough for me . Tuners fitted today, I'll hopefully drop it off the w/c the 13th to get the nut made and the guitar setup.
Here it is almost assembled whilst I wait to drop it off to the tech, can't wait to get this complete.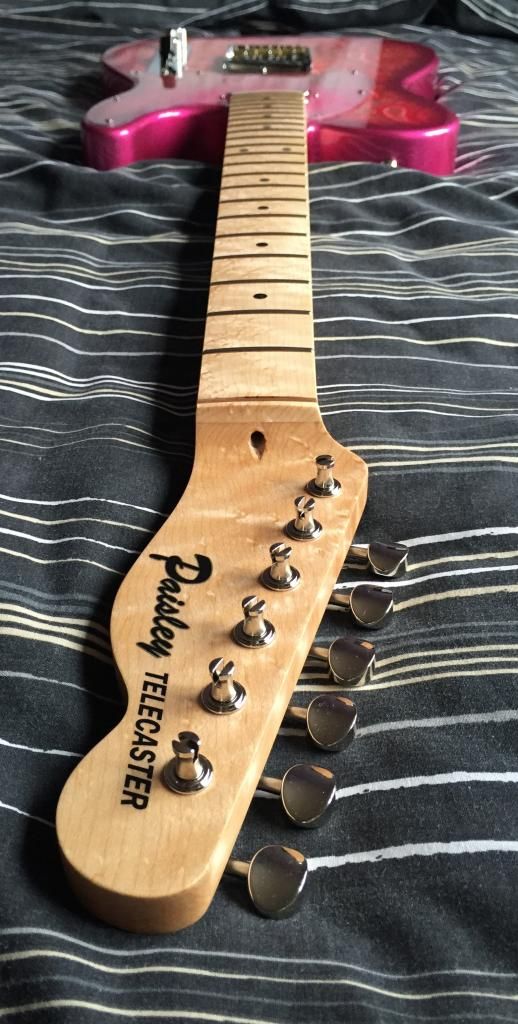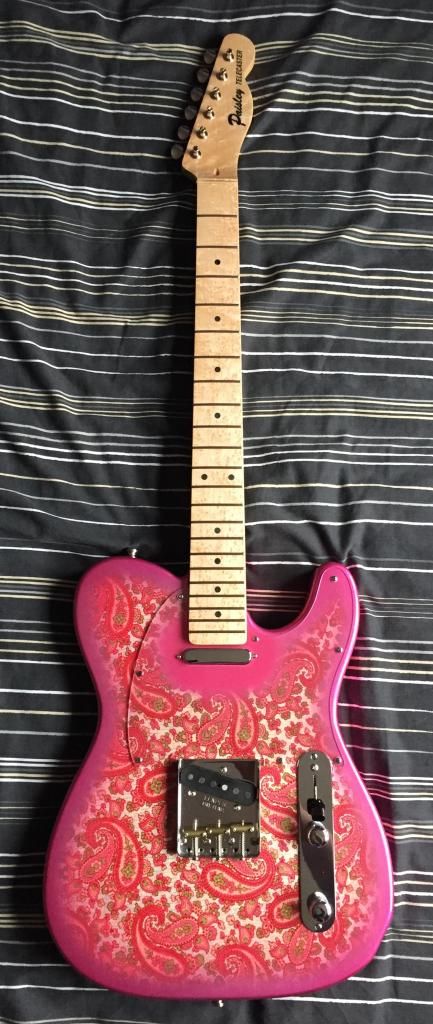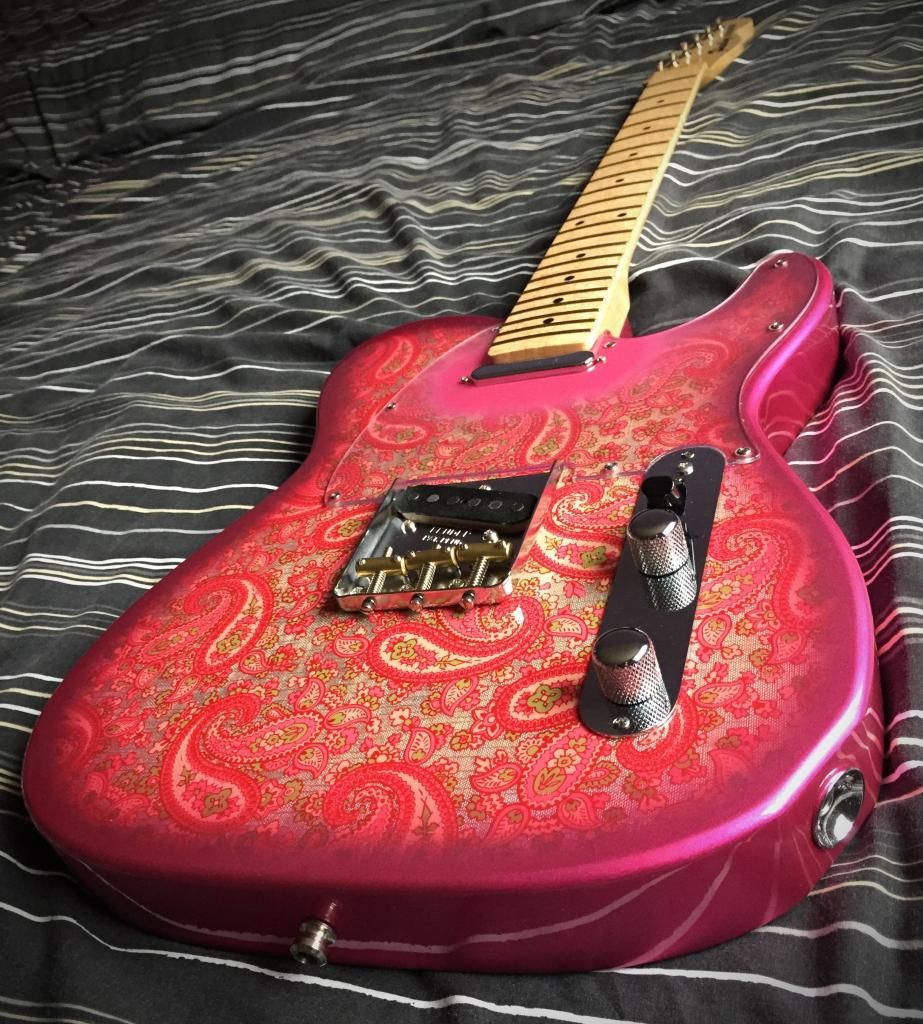 Proper pictures when it's complete
October 16th 2014
I'm being teased (not on purpose) by my tech guy, the guitar is ready, but I can't get there before Monday!
As I've got to attend a couple of work calls tonight, I managed to leave early and swing by CA Guitarworks and pickup the guitar, he's done a great job with the nut / setup, it plays better than my American Special Strat
Couple of photos I took just now: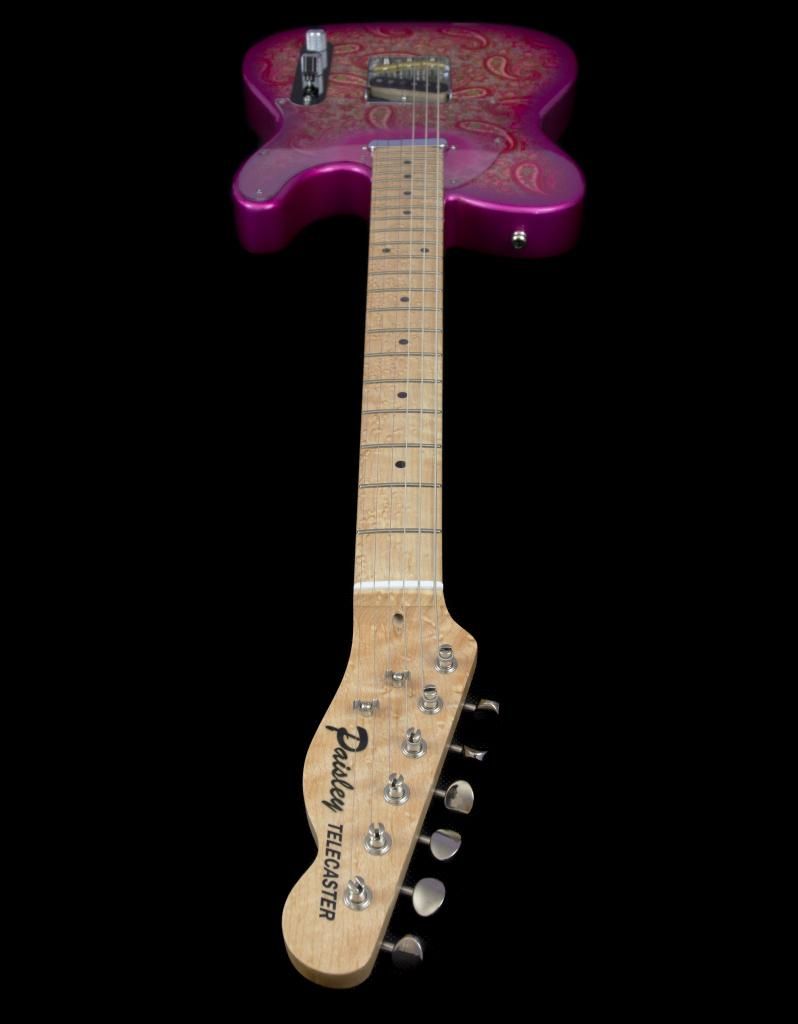 October 18th 2014
Very happy with the guitar, it would have definitely been cheaper to track down a real PP, but not sure it'd have been as good as this

January 6th 2015
A tiny, possibly pointless update, but I got a tweed case for the PP, feels complete now