As Angry Badger moves into 2006, the lineup remains Me (guitar), Phil C (vocals), Phil F (bass) and Mark (drums). We continue to write new material and rehearse at Farm Factory studios in Welwyn
The aim was to keep writing original material, the style we were aiming for was 'funk / rock', which later developed into 'heavy funk / rock', some recordings from our practice sessions. Some of these were recorded mic'd up, others just with a basic recording device in the room
Once we had the songs tight, we decided to record an E.P, so we'd have something half decent to hand out to to promoters / get gigs. We recorded the album in Offley Village hall, using a guy I met on the Muse forum (Gareth)! I took these photos, so that's why I'm not featured at all ?
Whilst in the Village Hall, we noticed a poster for a children's entertainer called "The Sausage Man", the name of the E.P was chosen! – "Don't Trust The Sausage Man" (who the hell would hire a children's entertainer called The Sausage Man!?!)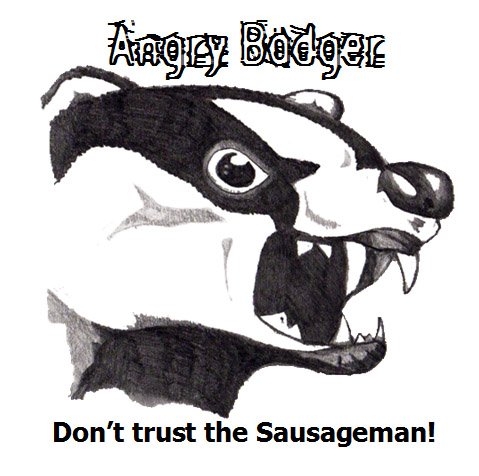 We ran out of time on the day, so had to do one more guitar track at Farm Factory, after that Gareth finished the tracks and we had our first E.P
With our E.P in hand, I set out to try and get us some gigs, the first (and my first gig ever!) was at the 'Best Of Local' event, from the photos I have, it was on the 6th November 2006. I don't know which BOL night it was as I've lost the flyer. It was a 'pay to play' gig, where we had to sell a certain number of tickets (20 I believe). The gig was at 'The Strange Place Club / Hertford Marque.
We were then invited back to play the 17th night they put on on the 4th December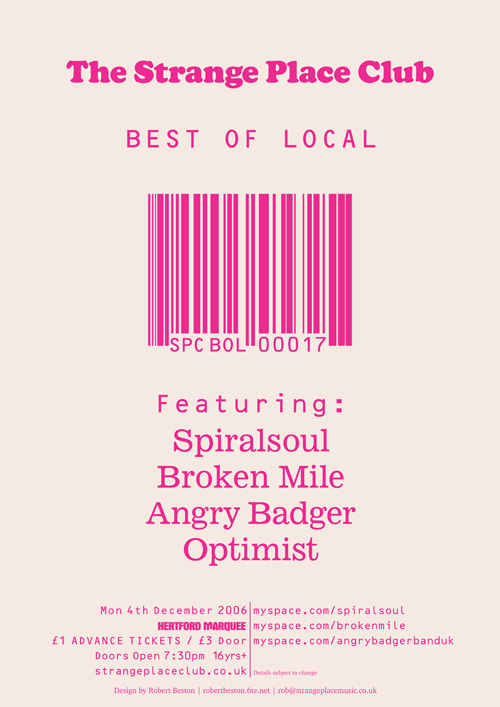 I also created our own mini ticket poster for the event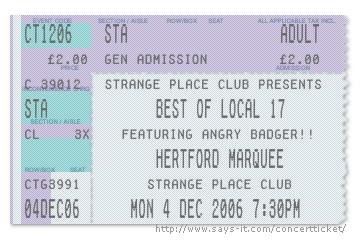 No photos this time, but a friend of mine (Paul Dear) was kind enough to film the event for us on the crappy camcorder I had at the time, the sound is very distorted, but we played well I thought ?
That took us to the end of 2006, we had survived a year with the same line up ? – 2007 next, where we even won a heat in a battle of the bands competition!
[/fusion_builder_column][/fusion_builder_row][/fusion_builder_container]