We finished the end of 2007 recruiting a new bass player, after Phil F decided he just couldn't find the time any more, back to our familiar haunt of Forming Bands we met Keith. We wasted no time getting Keith up to speed adding some funk from Keith's slap bass stylings to some of the original tunes, and crafted a new one called "The Dentist" a lovely song about pervy dentists.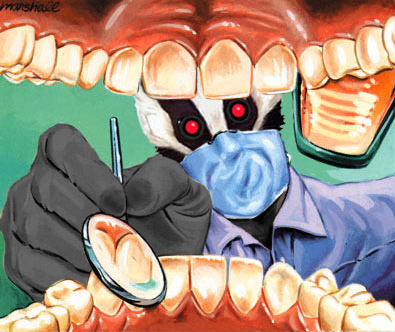 We decided to record an E.P at London Road Studio's, we recorded 5 tracks in total and named the E.P "Robot Love"
Here's me doing the scream intro to "Stop The Bells"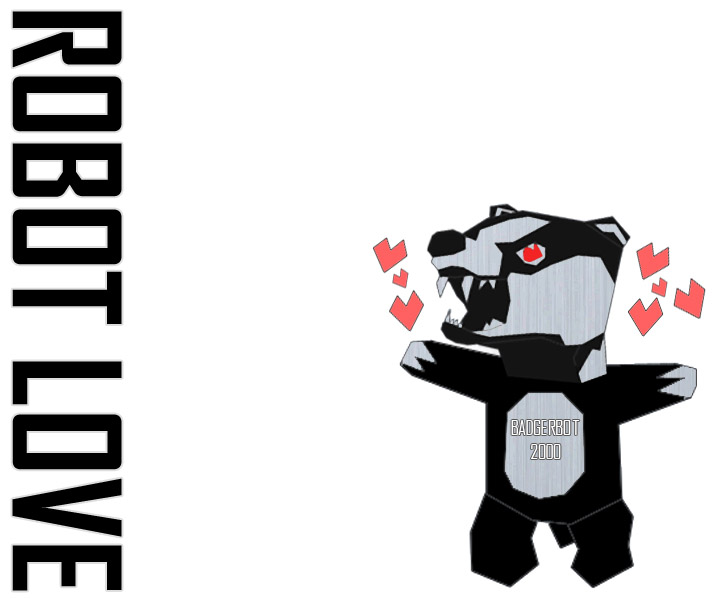 Here are those 5 tracks:
We actually had Prey played on BBC 3 Counties radio – Quite a cool moment, we heard them play it live whilst we were at London Road Studios in the middle of a rehearsal!
Some photos from Feb 2008:
With some new songs ready to go, we got our first gig booked for Club 85, the poster this time was inspired from the "The Man Who Eats Badgers and Other Strange Tales from Bodmin Moor" Arthur Boyt.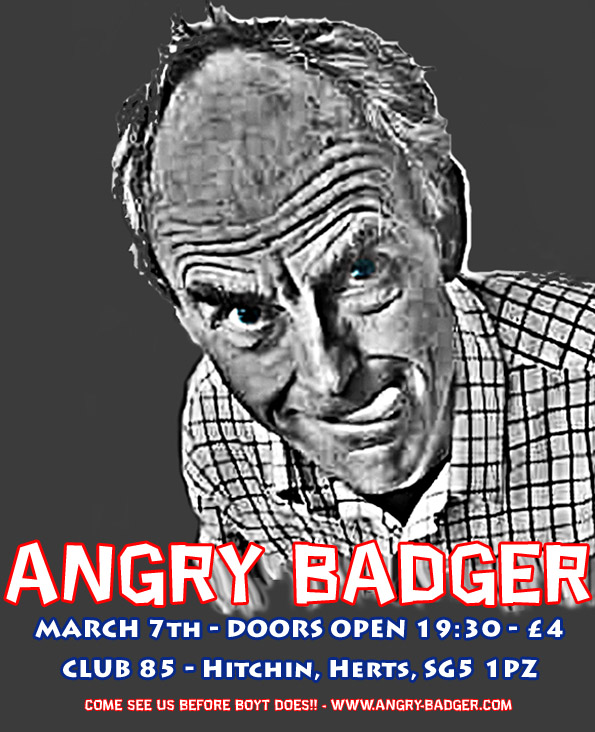 This also made it as a t-shirt design (not that anyone bought one).
The gig went well (we got invited back later, so it can't have been that bad!).
I can't embed videos from Facebook, so here's a couple of links to two video's from the Angry Badger page:
I don't think it was long the Club 85 gig that Keith decided that our music was getting heavier, where he hoped it'd get funkier, so it was back to the internet when we met Rob AKA Bass Balls! Rob was another funky player, but also with a love of heavier rock, the perfect combo! We were again back on form in no time! We wrote some new material with this line up, including one of the best songs I think we did "Choking my ambitions" it took us a while to get it to the song it always should have been, but the foundations were there.
I got an email asking if we would play a charity gig in Hemel for the Hertfordshire Air Ambulance, I did my bit for charidy' mate and signed us up. The gig was a bit of a stinker to be honest, we were the only originals band, that was really a covers band gig, still we soldiered on, had a 'stage' invasion "NEIL YOUNG?!" and muddled our way through some of the set.
The video is in four chunks, as at the time YouTube only allowed you to upload 10 minutes of footage at a time, The George pub 5th July 2008:
Soon after we played the Remix nightclub in Hitchin as part the Rhythms Of The World 'after party' the truth is, we played to about 6 people, BUT we did get a free pint, so I'd call that a result.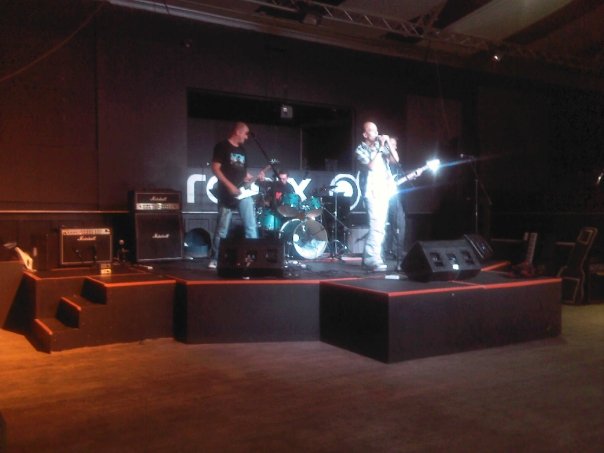 Our next gig was at the Melborn Rock Club in Meldrith in October (24th), we were a support act for a covers band, I don't feel boastful at all in saying we blew them out of the water, the actually asked us to play a bit longer! We had added Bombtrack to our set at this stage, that went down a treat at every gig we did.
This turned out to be our last gig with Mark, he decided he'd done his time as a badger and wasn't having as much fun any more. Back to the internet! I'm not sure which site I found Jon, but I had a chat to him on the phone in December, he'd listened to our music on Myspace, liked it and thought he could add to it.
When Jon turned up, I wasn't sure what to make of him, he looked a bit more 'fashionable' (I was basically living in band t-shirts and jeans at the time) than the rest of us (I distinctly remember him turning up in a scarf that he continued to wear whilst playing), so I was wondering if he'd have a lighter playing style, I couldn't have been more wrong, I've never been in room with a drummer who gave his kit such a pounding. Awesome, the heavier style we'd moved into just got heavier. That brings us to the end of 2008.
2009 brings us to more gigs, an interview in a crap local music fanzine, our picture in the local paper, a self recorded E.P and we finally found our sound. Angry Badger got ANGRIER.
[/fusion_builder_column][/fusion_builder_row][/fusion_builder_container]